If Barack Obama's quest to become the Democratic nominee for President has taught me anything thus far, its that the last thing on earth I should be doing, outside of trying to rehabilitate a room full of female sex addicts - is acting as anyones campaign manager. When Obama failed to attack his opponents in some of the earlier debates, I exhaustively screamed at the screen as if I was watching a slasher flick at an all black theater - at the time I was convinced that he lacked a killer instinct, and because of that Dennis Kucinich would probably be around longer than him. Ok, I was wrong about that. After he lost New Hampshire, it was my contention that Obama should go the Tonya Harding route and kneecap former president Clinton for belligerently going around and distorting his record like a drunken frat-boy - he more or less did that, and we haven't seen much of Bubba since South Carolina. Then when John McCain used his wife, the seldom heard from Cindy McCain, to score cheap political points by saying that she loved America - a direct response to the Michelle Obama "..for the first time I'm proud of my country" non-story that the press regurgitated because of their fundamental laziness. I was convinced that Obama would have Michelle introduce him before he gave his Wisconsin victory speech, before handing over the microphone to her husband she would mention Mrs. McCain's pathetic grandstanding and tell the crowd that her husband represents a new type of politics. Obviously that didn't happen.
So every week, depending on the political developments of the preceding days - I'm going to give Barack Obama some campaign advice that I hope he'll find beneficial. If not, I'm sure him and his staff can sit back and laugh at my suggestions - and openly wonder how they can take the advice of a career alcoholic who once had sex at his fathers wake.
Campaign Surrogates, Go Big or Go home!:
One thing I noticed when it comes to Hillary Clinton's surrogates, is that all of them feel extremely comfortable executing talking points - mercilessly attacking Obama on a plethora of issues as if it was second nature to them. Obama's surrogates on the other hand, their collective judgement possibly clouded by the "Clinton mystique" - never go for the jugular, and whenever they do get critical they preface their remarks with "
..with all due respect to Senator Clinton..
" No, No, No. My advice for the Obama campaign, heading into next week - is to get some surrogates out there who aren't scared to throw some serious punches - Obama can still perpetuate the "
hope
" message if his surrogates are willing to figuratively slice Achilles tendons and choke out Hillary's presidential arguments with spare telephone chords.
Play the "

Marriage Certificat

e" Card:
Hillary has been saying all along that while she is the one with experience, all Obama has is "
that one speech he gave in 2002
" - its time for the Obama campaign to poke proverbial holes in said experience. Being that Ms. Clinton held no security clearance, and the laundry list of issues that she claimed to have had a hand in during the 90's is
disingenuous at best
- its time for Obama to challenge her on this particular front. He should say, "
While I have shown the proper judgment it takes to be commander in chief, by her vote authorizing the war in Iraq Hillary has not - matter of fact, she has the audacity to think that showing America her Marriage Certificate is experience enough. I don't think so.
"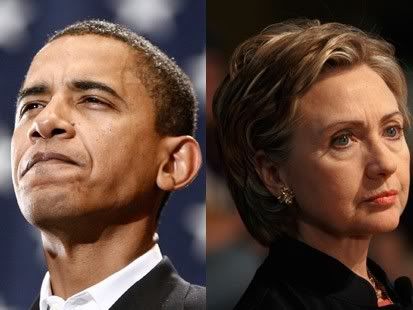 Obliterate the "Dream Ticket" talk:
The Clinton Campaign, Hillary and a handful of her surrogates - have made it their business this week to push this "
Dream Ticket
" theme. Obama has to aggressively knock this down for two Reasons:
1)
This type of talk might de-energize some of Obama's voters, giving them a false sense of security that regardless what happens - Obama will be on the ticket anyway. and
2)
Mrs. Clinton has said, repeatedly, that her and John McCain have
"crossed the threshold
" needed to become Commander-in-Chief - suggesting that Barack Obama is vastly unqualified. Obama needs to call her on this - suggest that her attacks lack substance and intellectual honesty, because how can he be grossly unprepared on one hand but you wouldn't mind the guy being your Vice President on the other.