As I sit here typing on a computer mainly used for illegal music and porn downloads, juggling dry heaves, the chills, and trying to find something witty to say, I realized how much I absolutely hate being sick. I guess we all hate being sick, but it happens so infrequently to me that whenever I do feel under the weather it always seems like a brand new experience for me. For a chubby bastard like myself, you would think that I would embrace being sick since I have lost 15 pounds in the matter of hours. I thought that people would comment positively on the slimmer and trimmer physique of HumanityCritic, but when you lose weight suddenly and have a pasty look of death on your face people just wonder if your favorite past time has become inhaling cooked cocaine.
People say that you learn a lot about yourself when you are in a fight, something that I have to disagree with being that I have been in a thousand fights and the only thing I've learned is that I'm addicted to violence. People say that you learn a lot about yourself when you are in love, a notion I disagree with since the last woman I was in love with left me for a panhandler(
literally
) , and I would to hate to think that my only lesson was to "
not
" fall in love. But being sick over the past couple of days I would say that I have learned a lot about myself, and what I have found out about myself is that when I'm sick I'm not an extremely weird motherfucker(
weirder than usual
) and a 32 year old baby. I know some of the stuff I have written on my blog has many of you thinking that I'm as nutty as squirrel turds, but after reading about some of the rituals I partake in while being sick, be kind enough to not report me to the puzzle factory.
Believe it or not, I have even less patience:
This is going to sound funny coming from a dude who once proclaimed that if I had a check for a million dollars and the cashier's line was particularly long that I would come back later, when I am sick my patience is non existent. Last night when I was in the checkout line about to by a toxic mix of drugs that I thought would stop me from praying to a porcelain god, an old lady was in front of me with 20 items and holding nothing but coupons. I was cool for the first 30 seconds, but erupting out of my mouth like my mandible was a ghetto volcano, I loudly yelled, "
Come the fuck on lady!!! You have a knot of money but want to keep a dying man in limbo as you pinch pennies??"
She quickly looked back at me in a "
you sure are an asshole
" kind of way, and went on with her business. When she went to get something else while keeping me there in a puddle of illness, so I told the cashier that I would pay for her stuff as long as I could get my black ass out of there. When the lady ran up to the register upset that I had paid for her items, for some reason I did something that I have done a million times when faced with awkward situations. I ran.
I am tactless:
This one chick who is a critic of my blog claims that she is sick and tired of the way that I beat the whole "
asshole
" motif in the ground. She also apparently doesn't care for the way I talk about my sub par sexual prowess, and my ability to sporadically throat-chop a black republican in a single bound. I guess she would have an argument if she didn't have such a horseshit blog herself, but I am insecure about my penis size, I have throat-chopped more men that I care to mention, and I have been known to be an insufferable asshole throughout my life. Granted, I'm an asshole to people who deserve it, priding myself on the fact that friends and family have never been on the business end of a brutal tongue lashing. But when my symptoms include a high fever, chills, and constant vomiting, I tend to abandon any type of governor I had on my mouth previously.
Case in point, I have a good friend named Grant who I have known since college. He is a good guy, but every conversation we have had over the past 5 years involves how horrible his ex is, her horrible mothering skills, and the hell that she has made his life. I don't know why I erupted with the following diatribe, because usually I have held these feelings back, but I said: "
If I hear one more "my ex ain't shit" stories I think I'm going to go on a killing spree. I told you not to mess with her, her fucking our entire college basketball team should have at least been a warning sign to you. Shit man, you still married that tramp even though I told you she tried to get me to have sex with her, you deserve everything you get motherfucker
!!" When those words barrelled out of my mouth I knew I fucked up, and I'm pretty sure the insincere "
I'm sorry
" didn't help things. I'm going to apologize in a proper fashion in a few days, but at least the conversation ended on a hopeful note when he said, "
I forgot who much of an insufferable prick you are when you are sick
."
Gotta have the right movie on
: I don't know what it is, but whenever I'm throwing up breakfast more than gang members throw up gang signs, it is important that I have the right movie playing in the background. Maybe its all in my mind, but if something is on the boob tube that particularly disagrees with me, it is my belief that I will throw up even more. If Fox News is on by some chance, I am vomiting more than Kate Moss in a bathroom stall. If SportsCenter is on I still might throw up, but it is definitely a soothing sound to the flu like symptoms that I have. Some soothing flicks that I enjoy when I'm sick include "
Wild Style", "Clerks", "Snatch",
and "
Bamboozled
".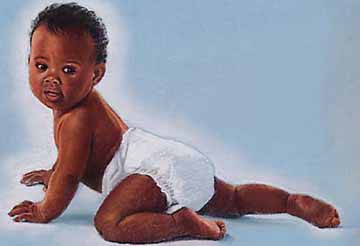 I'm a baby:
Regardless of the macho bravado I try to portrait on this blog, just know that when I am sick I am the biggest baby in the world. I not only moan like a constipated turkey when I'm feeling under the weather, I become an all out attention whore for any female who is kind enough to bring over chicken soup, or any "
sick dish
" for that manner. It gets even worse when that person, whether it be my mother, ex girl friend, or stripper I briefly dated on a dare once, comes by at the height of my illness. This is embarrassing to admit, but I find myself speaking like a 5 year old boy, reaching out to them, and in my best sick voice saying "
Please hold my hand
!" You would have thought that I was on my motherfucking death bed, making my mother call me a "
pussy
", forcing my ex girlfriend to say "
Now I know why I broke up with you
", and that stripper to say "
I can't believe I let you fuck me!"
I tend to do the weirdest shit
: Even though I have more issues than a 6 oclock news broadcast, I feel that my wife will have the toughest time dealing with my idiosyncrasies while I'm sick. For one thing, for a reason I can't explain, I tend to smear Vick's vapor rub all over my body. If that isn't weird enough for you, I tend to put both my hands down my pants as if I was a dreadlocked version of Al Bundy.(
What can I say, its soothing
) Even though this is probably adding to the problem, I tend to constantly soak my hands in extremely hot water to fight off the feeling of the chills.(
I guess that wouldn't be so bad, if I didn't yell out "Yeah baby, that's what I'm talking about!!!")
I'm not even going to go into my TheraFlu addiction, and my penchant for running full speed on my treadmill during the early morning hours.