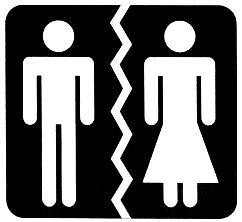 It's funny, 10 years ago when I thought about all the qualities that I wanted in a future wife, I have to admit that it was an embarrassing laundry list of things. Everything from college educated, fluent in a few languages, skilled with firearms, ability to perform an emergency tracheotomy, able to throw a hunting knife accurately, expertise in escaping a submerged car, well traveled, and a shitload of other things that I found important at the time. Now at the age of 32, where I realize that I'm a insufferable prick who might end up "
the old man with a thousand cats
" if I don't stop being such a scumbag, that list has shortened to just being a "
female
" and having "
a pulse
". Of course the bar has lowered considerably, but the only woman that fills all the requirements I had ten years ago was Laura fucking Kroft and she's a video game character.(
Hell, I'm pathetic enough. I'd probably hit a new low if I start "jacking it" to PlayStation. Then again, where is my "Tomb Raider" game??)
But seriously, even though being able to "
kill a man with chopsticks
" is no longer a requirement, hell there aren't really any requirements, but there are definite "
deal breakers
". Here are a few.
Hip Hop:
I'm just going to be honest here, I am a bona fide snob. As much as I would like to be accepting of other peoples ideas and beliefs, there are certain things I can't be polite to and one of those things is people's love for bad Hip Hop. I'm not saying that my wife has to be a Hip Hop historian, her and I quizzing each other on "
what Q-Tip said in the liner notes of The Low End Theory album
", just please don't embrace bullshit. Actually, I'd rather my future wife not like Hip Hop at all, as long as she didn't play Nelly or Mike Jones in a residence that we shared. This seems like nitpicking I know, and if I was to marry Sade and she loved "
The Ying Yang Twins
", I would willing accept her musical choices just as long as I could clumsily pre-ejaculate my little heart away. I just know me, and the high regard I have for Hip Hop, and I wouldn't want to anger my wife by using her CD's as coasters, throwing stars, or a tool to separate my weed stash with.
Politics:
Me being a very passionate and argumentative fuck, it would be in my best interest to look down the road and avoid any major conflicts that would damage a marriage. If my wife had a polar opposite political ideology than myself I think we would constantly be arguing, which some would think would lead to make up sex which it might, but the arguments would continue while I thrusted on top of her screaming "
I'm screwing you like the republican party is, jackass!!"
People can believe what they want, I'm not saying if you don't believe what I believe then you are evil, I just know that I lose respect for anyone that spouts out an ideology that doesn't make sense to me. Not only that, I'm pretty sure my future wife would be filing divorce papers if I was to give her a minstrel show picture as a gag gift, because of the time she angrily shouted "
That's bullshit, Bush DOES care about black people!!"
I'm pretty sure I would have both of our lawyers and the divorce mediators in stitches when I'd say, "
I had to divorce her Aunt Tomasina ass, simply because she felt that I should support Condi because she's black, fuck that!!"
Then I'm pretty sure I'd go overboard, jump on the table Tom Cruise style holding a Public Enemy album, saying "
What did Chuck say, "Every brother ain't a brother cause of color" fuck Condi
". Sorry about that, did I mention that me and my future wife must have similar political ideologies??
Manners:
I don't particularly mean her eating with her hands or using the wrong utensils, because if she ate with her feet and looked like Rosario Dawson, that would be quite alright to me. I'm particularly talking about women who are extremely mean to the wait staff, I absolutely hate that shit. I went on a date a year ago with someone that seemed like a bona fide prospect, that was until she was rude to the waitress and acted like the woman was a mere peasant. So I did what any self respecting black man would do, I rushed over and gave the waitress 20 bucks and said "
Make sure the cooks cock goes into HER food, not mine!!"(
Granted, the date in question was very courteous to my "staff" later. albeit for a couple of minutes but that's neither here nor there.) I guess rude women in general are a big turnoff to me, also anyone who is mean to a person serving your food is a fucking jackass in my opinion. Plus, I knew a cook who used his "
special sauce
" when patrons were disrespectful and nasty.(
Tip:
Make sure to not order "extra Mayo")
Excessive talking:
I'm not going to say
"all women
" because that would be generalizing, but I'll say that the women I've dated talked a lot more than I did when we were together. I have no problem with that, I appreciate a woman who can express herself especially since my vocabulary is made up of just sexual references and porn titles. I just hate when you are dating someone and they are no longer talking to convey a specific message, but to fill up space and that can be annoying to say the least. This isn't going to win me any praise amongst the women out there, but I dated a lovely woman a couple of years back. After a night of heavy drinking and probably giving her the best minute and twenty seconds of her life, I would always wake up to a shit-storm of dialogue."
Get up, lets talk!!", "I hate that bitch from work", "I think I'm going to do some laundry today.", "I really prefer home mad mac and cheese", "What is the square root of the White House?", "Why do you hum the smurf theme song when you ejaculate?", "My grandfather was a juggler in the circus.."
AHHHHHHHHH!!!!!!!
Can't you give a brother a few minutes to gather himself, possible mull the idea over in his head of clumsily climbing on top of you and not helping you to achieve climax again??