When I have pured beer on unruly women, started a fight in a church parking lot, had sex in the bathroom during a wake, or even cursed out a member of the clergy, I felt that if anyone didn't care what people thought then that person was me. That was until recently when my friend asked me to bring my IPOD for a party he was having, I guess since we have the same taste in music he was going to use my IPOD as a poor mans DJ if you will. Instead of making a play-list like I knew I should have, I just put it on "
shuffle
" so it would randomly play any song I had available. For the next hour and some change you would have thought that Kid Capri was choosing the selections, people in attendance were bopping their heads and frowning at me(
You know, that hip Hop frown of approval
) as artists like Slick Rick, KRS one, A Tribe called quest, and MF DOOM played in the background. I was an absolute hit at the party just because of my fucking IPOD, at one part I actually thought to myself that I might actually have a "
my IPOD got me a miscellaneous piece of ass
" post for you guys to read next week. As visions of wearing two condoms and entering various women of ill repute infiltrated my dread-locked skull, a few musical selections came on in a row that made the party-goers' frowns of approval into looks of absolute horror. When each selection played I didn't feel the need to change it for a couple of reasons, for one thing I wanted to give the appearance that I stood by my musical tastes and secondly, I figured that the song would be over soon and it would be followed by a Hip Hip classic. Suffice it to say, whether it was an act of god or just the luck of the songs the IPOD shuffled to, here are the songs that played in succession as I cringed, knowing that my chances of getting new ass were becoming slimmer than Kate Moss on a fucking treadmill.
"Time"
:(
Culture Club
)I have a theory about music lovers who happen to be in their late 20's to mid thirties that I would like to run by you guys if you don't mind. OK, I know that there are many people who read this blog who have musically diverse tastes, so don't take offense to what I have to say next. That being said, I believe that people around my age group(
32
) tend to be more musically diverse because we were the first to be exposed to a not so racially diverse MTV. Back when the only black acts you could find on MTV were Michael Jackson and Prince, a black kid like myself was exposed to artists that I wouldn't have otherwise been exposed to. The Culture Club was one of these groups, and even though I have admitted falling asleep during sex and having a relatively small penis, admitting that I dig some of their tunes has to be the bravest thing I have done on this blog. I love this song, especially since it was so poignant concerning a 5 year relationship I was in where we stayed together simply because of the time we put in. When Boy George sings, "
Because time won't give me time/
And time makes lovers feel, like they've got something real/ But you and me we know
They've got nothing but time/And time won't give me time/ Won't give me time
" I never knew androgynous singers from the mid 80's would have such a place in my heart.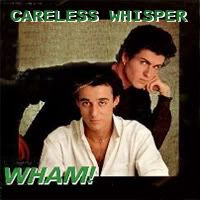 "
Careless Whisper
":(
Wham!
) Do you know what is more pathetic than having this song in your IPOD?? How about singing this song whenever you are drunk during Karaoke night at your local bar like I do.(
I have a sneaking suspicion that me singing this song is the reason why a waitress there possibly thinks I'm gay, because she felt comfortable asking me to feel her breasts because of a recent boob job she had gotten. Shit, if her thinking I'm gay leads to me feeling her tits on a regular basis, maybe I should start coming in the with rainbow t-shirts and shit
) But I have to be honest and say that similar to the feelings I have towards my right hand, me and this song had quite a history. When I was in 6th grade I was in love with a classmate named Kristen, possibly because she was nice to me, possibly because she was very pretty, probably because she had a pair of tits that should be illegal in 30 states for a 6th grader to have had at the time. Anyway, I had given her one of those "
If you like me check this box
" notes, hoping that we could hold hands during recess, we could share our milk, or she would possibly be nice enough to let me feel her up behind the bushes. Instead of just checking "
no
", or even politely telling me that she wasn't interested, she gave me a disgusted look and said "
You have got to be kidding me
!!" My heart was broken, and my walk to the bus taking me home felt more like a slug slithering on the ground than actual steps, finally plopping myself on the seat in the back of the bus. I remember, rather vividly to be quite honest, me putting my Walkman on and singing "
Careless Whisper
" as if I was singing to Kristen. It sounds sad, and somewhat corny I know, but it is an image that is seared in my mind for all eternity.(
An interesting postscript to that story:
I saw her seven years later at some girls party that I knew at the time. When I took her back the crib, because she suddenly found me attractive at that time, I was looking for something that I hadn't seen in years. I giggled when after a couple of minutes of lovemaking she said, "Dude, why in the fuck are you playing "Careless Whisper"??)
"
Jack and Diane
":(
John Cougar Mellencamp
)This is a perfect example of why the argument "
you aren't from where they're from so you can't relate
" doesn't make any fucking sense when I hear it from rabid Tupac fans or fans of the crunk music that I criticize. Last time I checked I wasn't white, raised poor, or from rural Indiana like John Cougar Mellencamp was but I related to his message just fine. Again, I guess those constant hours in front of the television watching a MTV that wasn't too racially diverse at the time is the reason that I still dig this song. I know I cringed when this song came on and I'm ashamed of myself because of it, but who can't relate to experiencing young love and not wanting to get older and face responsibility??
"
Toms Diner
":(
Suzanne Vega
) I feel that this song is in my IPOD for a few reasons to be totally honest with you. If I told you that I enjoy this song because of the many Hip Hop songs that have used this song as a sample, that would be true. If I told you that this song holds dear to my heart because I like the way she lyrically rambles on and on, as if she was free-styling the lyrics, that would be true as well. But to me more precise, and acquiesce to my lecherous sensibilities, a chick once hummed this song during one of the first memorable mouth-hugs I ever received. (
If you are a new reader then just go to the archives or ask anyone who regularly reads my daily drivel, yes many of my life experience evolve around sex and violence. Get used to it.)
"
Gone
":(
N'Sync
)Yes, N'Sync is a corny group that should be publicly beaten because of the bubble gum sound they subjected our ears to. Yes, Justin DID sell Janet down the river and I swear to you, as long as my name is Humanity F. Critic, that I will throat-chop that motherfucker the same way I viciously strike spineless black republicans on a regular basis because if their coonery. That being said, that "
Gone
" song is my joint!!! Like Stonehenge, Crop-Circles, white women with ass, or me ruining the black "
penis myth
", sometimes you have to shrug your shoulders and deal with the circumstances in front of you. OK, I'm embarrassed to admit that this song is in my Ipod, but imagine how I looked when a group of young black guys pulled up beside my car witnessing me singing the words to this song with my eyes closed. I would have preferred them to laugh at me, but they looked at me like I had two heads or something, cocking their head to the side the same way your dog does when it's puzzled.