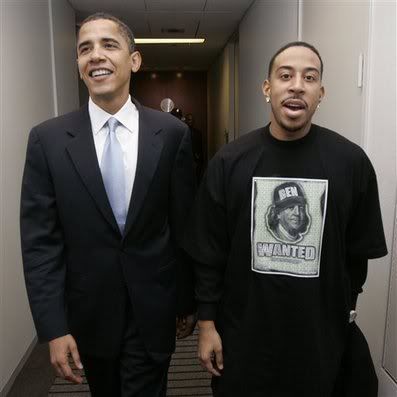 While I wouldn't consider myself to be the biggest Ludacris fan in the world, there is no doubt that the Atlanta based MC has bona fide skills, something I admit begrudgingly on the strength of his occasionally embracing the time honored tradition of rappers dumbing down their lyrics. But the same reason I wouldn't call Mike Tyson a "
pussy
" if he suddenly decided to practice civil disobedience ala Gandhi, a steady diet of Redbull and ginseng couldn't energize me enough to openly criticize what I feel to be Ludacris' questionable career choices - especially when there are a plethora of more deserving monosyllabic rappers out there who I can target. But a few years ago, when that racist and sexual harasser Bill O'Reilly called on his octogenarian viewers to boycott Pepsi for them taking on Ludacris as one of their pitchmen - I was one of his most ardent supporters. That being said, with the simple act of release of a song on the internet, I went from having his back to completely turning my back on him. Let me explain.
A few days ago, when I went to
nahright
and listened to Ludaris' new song entitled "
Politics
", the lyrics made me absolutely cringe. Its not that the lyrical content offended my sensibilities mind you, two of my favorite Kool G Rap songs involve him sexually "
filling all three holes like bowling
" in terms of his late-night conquests and a vivid story about him blowing a mobsters cerebral cortex all over some random city street - its just my opinion that MC's have to be more responsible when broaching the the topic of Obama from now until the election. I mean, in an age where Obama gets blasted for flimsy affiliations ranging from a person who did reprehensible things when he was 8 years old, to the kind words of a "
controversial
" black leader who he has never met someone intimately linking the two gentleman - why in the fuck would Ludacris say that say that his music is in Obama's Ipod(
..something Obama admitting in "Rolling Stone
") then proceed to call Hillary Clinton a "
bitch"
and say disparaging things about John McCain in the process? Because of this recent brand of clumsiness, cue the Obama campaign.
"

As Barack Obama has said many, many times in the past, rap lyrics today too often perpetuate misogyny, materialism, and degrading images that he doesn't want his daughters or any children exposed to," said spokesman Bill Burton. "This song is not only outrageously offensive to Senator Clinton, Reverend Jackson, Senator McCain, and President Bush, it is offensive to all of us who are trying to raise our children with the values we hold dear. While Ludacris is a talented individual he should be ashamed of these lyrics.

"
Ludacris, you fucking asked for it. Chris, I'm a supporter too, and I have at times gone over the line, artistically, when expressing my support as well. The big difference is, you are the media's biggest scapegoat(
See Rapper
), and there is a picture in existence of you with Obama for Christs sake. I'm just an irrelevant blogger with a penchant for late-night snacking and collecting obscure porn titles like "
Dyslexic Asian Midgets
", a solitary voice easily drowned out by millions of other people who express themselves in blog entries.(
Less talented voices, but I digress
)Listen, I'm not trying to silence every black person with a public platform to speak from here to November 4th mind you, and I know how utterly ridiculous it is for Obama to disassociate himself with everything some black person says. That being said, just shut your fucking mouth if what you have to say could hurt the chances of us having the first place president. Indeed, dumb rappers need teaching.