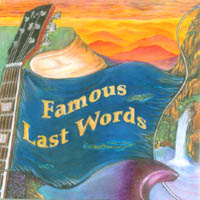 There are a few idiosyncrasies that I have that I thought that I would share with all of you. For one thing, I hate it when someone takes a drink and they let out a huge "
Ahhh
". I don't know what it is but that irritates the piss out of me. Secondly, people who want to talk to you while you are watching a good movie, or while a good song is on the radio. You literally want to choke the shit out of them immediately. Lastly, I have a thing where I hate to have the last conversation of the day that I have with someone be a awkward one. Let me explain. All of the people that died in my life, whether it be friends, family, or lovers, there was always a "last awkward conversation" that I had with them before they passed on.
My Father:
As I have said before, in many of the posts that I have written since I started blogging in September, my relationship with my father wasn't the best. When he was in the hospital, I am ashamed to admit, I didn't see him that often because I thought any "
death bed-"you ain't shit
" speeches would be damaging to an already fractured individual. I saw him though, but hardly on a one on one basis. That was until one late night when I had the sudden urge to see my father. Actually, I had gone out that night and was actually shit-faced drunk when I decided to see him. When I came into his room his face had lit up like he thought he would never see me again, which made me feel like an asshole. Plus, my father was very observant, so the fact that he didn't notice that I was 2 sheets to the wind was depressing also, because I knew that he was on deaths door. We sat and talked, and for the first time ever I felt that my father wasn't judging me. We talked about sports, the women he slept with when he was stationed in Japan, his time in Long Beach, a whole bunch of shit. If that wasn't strange enough, something stranger happened. We were watching some Denzel movie on cable when he pointed to the screen and said, "
You could do that! You could really do that
!" "
Do what
?", I said. He said, "
You could really be an actor! You are charismatic, funny, you have my dashing good looks! There is no reason why you couldn't be a movie star!
" That was the weirdest shit he ever said to me, since he spent my entire life telling me that I "
wasn't going to be shit
", now he is giving me career advice? Then the nurse came in, and I grabbed one of his tubes and said, "
Nurse, you might have to decrease his morphine drip! This crazy old bastard has lost it
!" We all laughed, as I gave the cute nurse one of my nerdly "
come hither
" looks. My old man said, "
Nurse, my son is a fine male specimen, he can go all night long!"
That basically ruined my chances with the nurse, since she laughed, probably at the fact that I had to have a dying man set me up with somebody. A stayed a few more hours, but he was nodding in and out of sleep, so I knew I had to go. While I was leaving, astonished that I had a bonding experience with my father that I never had before, I just looked at him while he rested and he looked so peaceful. Right when I was closing the door he awoke and said, "
Come back and see me son, you are always welcome. Oh yeah, and I love you
! "
I love you too pop
.", I said as I shut the door. I did go back to see him, but he was usually knocked out while I was there. That was the last conversation that I had with him, and I will always cherish that experience.
Sheila:
Sheila was one of the first women I was ever in love with. She was classy, quirky, and had a grace and style about her that is pretty much unparalleled. You know you love somebody when you fall in love with the things that pisses you off about them. I had it bad for Sheila, but there was always a ceiling for that love because she expressed to me, a plethora of times, that she didn't ever want to be married or have kids. I know they exist, but she was the first woman that I ever knew that detested the whole "
marriage
" thing, or "
having kids
" thing. But when you are in love the future is irrelevant, the only thing that matters is the present, especially when you are in love. Anyway, she was planning this cross country trip with a few of her girlfriends to California over the summer. I don't claim to be a psychic, Nostradamus, or even Ms. Cleo for that matter, but I had a bad feeling about this trip from the start. I begged her not to go, that I didn't feel good about her trip and that we could "
do something else
". But I think at the time Sheila brushed it off as male insecurity, she probably figured I thought she would meet someone else in Cali. But that wasn't it at all, I just had bad feelings about it. The day of the trip she said something that left my mouth wide open. This was a woman that hated the word marriage, thought kids were "crumb snatchers", so you can understand my shock when she said, "
You are actually the first person that I see having a family with!
". Being that she said this while looking deeply into my eyes and gently stroking my face, she was either dead serious or in desperate need of a Oscar nomination. That being said, the ceiling busted open on our relationship , and the sky was the limit. I kissed her goodbye, then I watched her get in the car with three of her friends that I wouldn't trust as far as I could throw them.(
They were big girls, so just imagine how relevant that last line was
) Three in the morning I was awoken by a phone call by her mother, before she could say anything I knew what had happened. I said, "
Don't you fucking say it Ms. Jones! Don't you fucking dare!
" The only thing she could muster out of her mouth was, "
Yeah. Yeah. It was an accident, she didn't make it.
" I spent the next few minutes punching holes through doors, damn near breaking my hands, bleeding profusely. To make it worse, her mother sent me a note that Sheila had started writing for me while she was on her trip, proclaiming her everlasting love for me.
Buddy:
I have talked about Buddy many times over the past few months, He was a good friend of mine that lost his life to some coward in a club a few months back. Anyway, Buddy was a extremely bright guy but when it came to politics it went in one ear and right out the other. He had the good sense to understand that Bush is a douche-bag, but he didn't want to involve him in any political discussions. I remember one time him having to tell me, "
Shut the fuck up
" as I went on and on about how black republicans might as well wear black-face. I actually think that he didn't hang with me as much based on how obsessed I was with politics around election time. That being said, you could understand my shock when I got a call from Buddy when he was at a friend of ours party. See, I was invited to a friend's party, but I was home trying to figure out if I was going to a bachelor party instead. Buddy, Calvin, and his sister all told me to come to the party but for some reason that bachelor party was a priority that night. As Buddy was on the phone, urging me to come to join in on the festivities, he started talking about politics. Not only that, he was spouting off facts, figures, and statistics, what had gotten into him?? After we talked for a few minutes he said, "
OK I gotta go. You should come through man, old friends together again!"
That was the last time I spoke to Buddy at length, because a week later he would be gunned down point blank in some bullshit ghetto club. Also, I am mad at myself that I didn't spend that night with my friends. The mere fact that I chose to spend that night looking at some cheap, dime-store trollop's instead of hanging with my lifelong pals makes me sick to my stomach. Rest in Peace Buddy.
(
I talk about Sheila and my father, albeit fictitiously, here
.)