Besides girls who suddenly find religion and become celibate, republican stalkers who are swinging from the jockstrap and get the bitchslap(
thanks for the love everyone
) and a incompetent president who makes the U.S look stupid, there is nothing more pathetic than the Wack MC. He has been around since Hip Hop began and will be around until the end of time. I pointed out a few obvious ones, but if some others come to mind please add your input.
Vanilla Ice
: Vanilla Ice is definitely tagged with the "wackest of all time" title but I think people overreact a bit. Yes the man was absolute garbage and he should of never picked up a microphone apparatus, but when you look at acts like Lil' John and the Ying Yang twins it makes vanilla Ice look somewhat lyrical. The funniest thing about this particular artist is that I know people who were big fans of his when he first came out and now when I bring it up they change the topic faster than a republican when Bush's national guard service is brought up. The wackest part of this unworthy microphone holder is that his biggest hit, "Ice Ice Baby", was most likely written by a ghostwriter.
Gerardo
: Even though the song "Rico Suave" was his only hit, it is so incredibly cheesy that he had to be added to the list. There isn't much I can say about this artist that hasn't been said from Hip Hop critics world wide. Your honor, I present exhibit A.
Well, it's ten o'clock and I'm two hours late
I never said I was a prompt date
But you kept persisting that I meet your parents
Hah, they're going to love my appearance!
I think you see my point.
Freedom Williams
: Back in the 90's you have what I call a "just add water" rapper. A R&B artist would have a song, so since they wanted some rap in their song they didn't hire a legitimate artist, just anybody who could rhyme words. Obviously you could easily point out one of these individuals by their lack of rhyming skills. C&C Music factory had one of these rappers in their group, and he went by the name of Freedom Williams. With his slicked back hair and his corny rhyme flow, he abused listeners with a grade school lyrics that truly hurt the ears. The other day I was driving and heard the forgettable "Things that make you go hmm" and I decided to add him to my list. Sounds of wackness.
Benzino
: Full disclosure. I hate this motherfucker. The same way you hate the drug dealer who moves in your upscale neighborhood and starts dealing, the same way you hate the priest in your town that was found to be touching kids, the same way you hate our jackass president and the idiotic minions that follow him. I know, that's a lot of hate. Besides being a horrible lyricist, whether it be with his group "made Men" or his solo work, he is also co-owner of The Source magazine. I am in no way a Eminem apologist, but when Benzino had beef with the Detroit rapper he turned the magazine into a propaganda piece against Eminem. I thought the magazine was supposed to be objective? Shit, the magazine was crap before his beef with Eminem, who am I kidding. From his idiotic ramblings or his tough guy posturing, this guy needs to get his ass kicked in the worst way. He had the nerve to say, "I'm the greatest thing since Pac's been alive!" Negro Please.
Snap
: I know it seems that I am picking on one hit wonders, but the poor quality of this artist is clearly evident. Even though I have uttered the words "
I will attack and you don't want that
" after throat chopping some douchebag I had a conflict with, that doesn't excuse the wackness of the song. Beside the fact that the lyrics were sub-par and the video was garbage, the guy rapping looked and sounded like a ugly version of Ving Rhames.(thats saying alot) There was a better version of this song performed by a MC named Chill Rob G, but I still don't understand what the deal was with them sharing the same beat.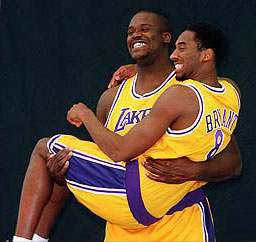 Kobe/Shaq
: What can i say about the rapping careers of these two that hasn't already been said. Shaq was definitely better than Kobe in the skills department, and he was pretty successful record sales wise. But his "Cat in the Hat" rhyme style took me back to the days of finger paints and mid afternoon naps. Kobe was just pitiful, sounding like a person who just learned English who suddenly decided that they wanted to be a rapper. A friend of mine let me listen to a sample of Kobe's album a few years ago, and when I heard it I was shocked on how wack a human being could be. I feel that 5 minutes of my life was wasted and I can never get them back. Kobe, you owe me motherfucker!!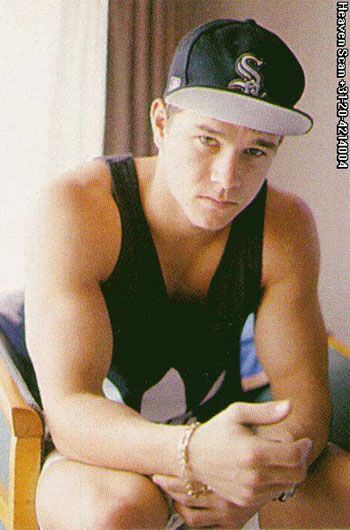 Marky Mark
: Mark Wahlberg has become somewhat respected when it comes to his acting career. But his rapping career is a totally different story. There is a dark cloud that follows Mr. Wahlberg, and that dark cloud is the
Funky Bunch
. I have to admit that I find joy in some aspects of his music.
Ex
: When making love I like to quote the song "Good Vibration" by saying to my lover,
'Come on-Come on, Feel it Feel it
!!". There is always a horrified look on my lovers face when I blurt that out but it always makes me chuckle. Looking back on some of his videos it makes you cringe because A)The music is horseshit B)The guy had his shirt off more than LL Cool J C)The rhymes were elementary and D)He always had his crew consist of "tough guys" to make him look tougher. His brother Donnie has the right attitude, when asked about New Kids on the Block he is open and always says "We sucked ass". Mark should follow his lead, because every time someone mentions his musical career there is a unmistakable uneasiness on his face. Lighten up Marky!