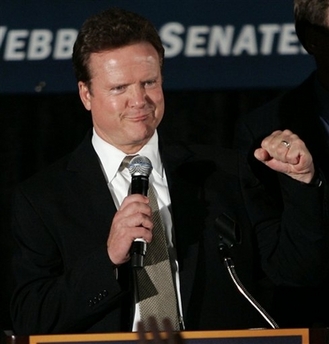 You know, I must say that my vote for Jim Webb has to be the best political decision that I have made at the ballot box in my 15 year voting history. I'm not going to lie to you, Harris Miller, the gentleman he ran against in the Virginia democratic primary, probably has views more similar to my own. But I knew that for a democrat to win Virginia, considering how many backwards fucks in my state long for the days of Jim Crow, I knew that our best shot was to have a more centrist democrat. Add on the fact that he is a decorated war hero, an author, Reagan's one time secretary of the Navy, and a vocal critic of the Iraq war from day one, I knew he had the best chance to take down George "
Felix
" Allen faster than Allen took down those confederate flags and hangman nooses that he had in his office for all those years. After he got the nomination I think most of my time was spent talking to people, mostly black folks who mistakenly felt indifferent about the election because they unfortunately didn't see the difference in the two men, about Webb's credentials and his stances on a pletora of issues. Usually I would get black folks by saying, "
You know that in 1982 he led the fight for them including a black soldier on the memorial statue that graces the Vietnam Veterans memorial on the National Mall??
" That usually did it, but what started with me supporting a man just because of my hatred for that fucking white robe wearing motherfucking Allen, turned into me actually being a supporter of Webb's with no ulterior motives. So I guess you can tell that I was ecstatic when the man I voted for won, but in the back of my mind I wondered if he would disappoint me like so many politicians have done before. Would my attempts to convert my friends to true believer, like I was a fucking Jehovah's witness or some shit, be for not?? By the following piece, you can tell that I'm pretty secure in the fact that Mr. Webb will represent Virginians well in the Senate. I'd just love to go drinking with this motherfucker.(
Keep in mind Bush was briefed before approaching Webb and was told to be delicate when discussing Webb's son, especially since the young man had recently escaped death while serving in Iraq.
)
Jim Webb Almost Beats Some Sense Into Bush

The White House invited newly elected Senate and House members to a "private reception" after the election, and George W. Bush really charmed Jim Webb. According to The Hill, Bush asked Webb how his son was doing in Iraq; Jimmy Webb Jr. is serving in the Marine Corps. Senator-elect Webb said he'd like to see his son get home safely. "I didn't ask you that," Bush shot back. "I asked how he's doing."

Sources tell The Hill that Webb was so furious he could barely keep himself from slugging Dubya in the face, but he bravely made it through the dinner without violence. Webb's office will only say that he had a "private conversation" with Bush. There's an even better version from the Washington Post, after the jump.
The Post says Webb refused to have his picture taken with Bush and even refused to stand in the receiving line. Here's the paper's version of the exchange:

"How's your boy?" Bush asked, referring to Webb's son, a Marine serving in Iraq.

"I'd like to get them out of Iraq, Mr. President," Webb responded, echoing a campaign theme.

"That's not what I asked you," Bush said. "How's your boy?"

"That's between me and my boy, Mr. President," Webb said coldly, ending the conversation on the State Floor of the East Wing of the White House.