One of the negative things about joking around all the time is that people have a hard time knowing when you're serious. Like the time I told a close friend of mine that the love of his life was currently experiencing penises that weren't his, his response was "
Shut up Critic, you are one funny dude!!"
Unfortunately he knew that I wasn't kidding when he found himself in the free clinic weeks later, being asked by the doctor if he was "
allergic to penicillin or not."
Or this chick named Gretchen that I emotionally declared my love for in High School, only for her to laugh hysterically and say, "
Boy, you know you don't love me!! Wanna get high later??
" An interesting postscript to that teenage tale, fast forward 10 years later and I had to painfully be asked by her at our High School reunion, "
HumanityCritic, why didn't you ever try to date me in High School?"
I went into that last paragraph to go into something rather embarrassing that happened to me one drunken night last week. I was invited over the house of a good friend of mine, an up and coming director, for some drinks and a few laughs. As the night came to a close, after we discussed everything from Condileeza Rice being an "
Aunt Tomasina
", the self loathing of black republicans, and pop culture as a whole, my friend suggested that we all come up with some great movie ideas. We were all game, so the next few minutes I sat through what I thought were some pretty horrible movie ideas, just knowing that my amazing ideas would come off like gangbusters. Then it was my turn, so I drunkenly stood up for what I thought was the best idea since internet porn and said:
"Idea number 1: A young couple buys an old, dingy house as the ultimate "fixer-upper". Despite rumblings from neighbors and friends alike that the house was "haunted" because of the 14 people that were slaughtered there previously, they decided to live there anyway, not believing in "nonsense like that." As they get settled in they hear voices, they don't move out, blood comes out as the young wife takes a shower, the stay the course and don't move. I mean, they've seen images of dead bodies, pictures randomly moving, stuff that would make me absolutely shit on myself. Then one day, as they looked out of the window of their home, they saw a sight that made them quickly pack their shit and get the fuck out of dodge screaming!! "Ahhhhhhhh!"
My friend asked, "
What was it??"
I said, "
Black folks were moving in next door, nothing is scarier than having your fucking property value plummet
!" Nothing, crickets, I guess because they didn't know whether I was joking or serious. Then they took the alcohol from me when I told them my other idea, to have make a movie entitled "
Boyz in the Hood 2: The Return of Doughboy
". Granted Doughboy is dead and it is a horror flick, but it seemed like an outstanding idea at the time.
As my friend drove me home he asked me about something that I had written, a short story that he wanted to capture on film. As we sat in my driveway we talked about what actors would be perfect to play each role based on that specific actors filmography. These are the actors that I came up with, I like most of these actors to be totally honest and this isn't by any means a rant on "
Typecasting
". Ok, maybe it is, it's just based on what they normally play and how perfect they would be playing the roles that I had written.
Standard Hooker role:(
Paula Jai Parker
) I don't know what it is, but I just think that this actress can pull off the role of "
Wanda
" perfectly, she is the hooker in my story with a "
heart of gold
." Listen, I'm not trying to claim that I know the inner-working of Hollywood or anything, but I can just imagine how hard it is for a black actresses nowadays. That being said, this chick sure plays a lot of "
prostitute
" roles, "
High Crimes", "Phone Booth", "Hustle and Flow",
she should teach a class on "
how to make an ass transaction look more believable
". When not playing a hooker, she plays "
ghetto
" to absolute perfection, she was believable in "
Friday", "She hate me
", and "
Sprung
" to be totally honest. Even though I playfully give her shit like a fecal fetish, at the end of the day I am just a chubby dreadlocked blogger who sometimes sings the "
Umpa Loopa
" theme song while ejaculating. What do I know??
Wise Old Black Man
:(
Morgan Freeman
) Let me start off by saying that I respect Mr. Freeman as an actor, he is by far one of the best out there. But I remember reading a columnist a few years ago, who said that the only way that Hollywood could feel comfortable with a strong black lead character is if they played the "
Magical Negro
" role. You know, the lead black actor has to have some sort of mysticism to them to explain their greatness, like Will Smith's role in "
The Legend of Bagger Vance
", Michael Clarke Duncan's role in "
The Green Mile
", or Queen Latifah's role in "
Bringing down the House
". It's hard for me to lump Mr. Freeman in this category carelessly, but when I look back at some of his roles he sure plays the "
black man with all the answers
" role like it wasn't shit.(
See "The Shawshank Redemption" and "Million Dollar Baby")
Even though the movie that we're making, if it gets made at all, would be perfect for Morgan as he would play "
Luther
", the wise old man with rogue-like advice for anyone he encounters.
Eclectic old white guy
(
Christopher Walken
): If one guy gets a considerable amount of dough just playing himself, this is the dude. I don't scare easily, but I once met him in an elevator in New York and he officially freaked me the fuck out. He asked me where I was from, and when I told him "
Virginia
" he started listing off graphic historic events that took place in my dear state. I didn't know whether to be impressed or lose my goddamned lunch, but the weirdest thing is how he signed an autograph for me, shook my dreadlocks and said, "
take care scooter
!!" "
Scooter"??
I like the guy as an actor, but he always plays each character like he is an argument away from going on a killing spree, which makes him an even more compelling actor to watch. I'm pretty sure that he knows that people will hire him to put his specific flavor to a role, but when I think of Christopher Walken I definitely want to cast him in the role of "
Mica
h" the mentally disturbed retired mathematician.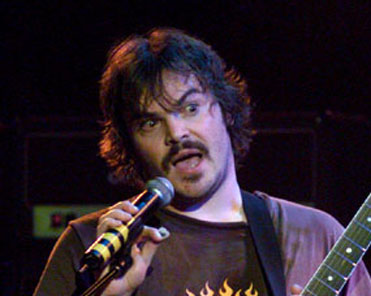 The Slacker Pal
:(
Jack Black
) I have to admit, I'm a fan of this guy's band "
Tenacious D
", to the point that I talked a girl into letting me have sex with her while their song "
Fuck her Slowly
" romantically played in the background. But seriously, I don't care if this motherfucker wants to perform in "
Shakespeare in the park", "Death of a Salesman
", or any other serious role you can name, he will always seem like the slacker role he played in "
High Fidelity
" to me.(
I went to one of his shows in North Carolina, and made him say the "Cosby Sweater" line
) I know it's terrible to put limitations on somebody because who knows at what heights their talent goes to, but wouldn't you giggle your silly ass off if you saw Jaleel "
Urke
l" White play the lead doctor on "
ER
"? That's what I thought.. That being said, Jack Black would play the role of "
Donovan-The Hippie Environmentalist"
like no other.
Short tempered Italian business man
:(
Joe Pesci
) As much as I try to distance myself from my violent behavior, my friends will remind me of it whenever possible. A story that I hear over and over again about myself is one where a guy was talking shit to me, so without thinking I took the bottle I was drinking out of and smashed it over the guys head. When that happened, all my boys screamed "
Joe Pesci!!",
a nicknamed that has haunted me like Mark Wahlbergs rap career haunts him. But the mere fact that you all out there knew what the "
Joe Pesci
" reference meant, tells you something about some of his most memorable performances. You don't really think about that buddy movie he was in with Danny Glover, or even those "
Lethal Weapon
" movies, you think about him stabbing a guy to death with a motherfucking pen. Don't lie. Anyway, I think I'm going to cast him as "
Sal
", the short tempered business man who literally shoves bats up guy's asses who try to muscle in on his business.