Back in the late 80's as I nodded my bald fade to the beats of The Bomb Squad and the angry political lyrics of Chuck D I saw myself as a young revolutionary, like Michael from "
Good Times
", only less gay. I thought back then that I would grow up to be quite the militant, holding secret meetings with like-minded individuals in underground undisclosed locations, dressing in all black and wearing some sort of beret, and only fucking women who looked up to Angela Davis and yelled "
Power to the people!!
" after they climaxed. I even saw myself kidnapping political leaders who I felt didn't do right by my people, not necessarily causing them physical harm, but making them know the plight of the black-man by strapping them to a chair and making them listen to "
It takes a nation of millions to hold us back
" a thousand times, forcing them to watch "
Roots
" on a 24 hour loop, and only feeding them a steady diet of cooked pig intestines and grape soda. So suffice it to say, I'm sure my support of Jim Webb has offended whatever revolutionary sensibilities are still in this chubby frame of mine, but something about supporting a far superior candidate and wanting him to beat a career racist just lit a fire under my ass, like being on the business end of a cannibal's barbecue.
Listen, I'm overjoyed that Jim Webb beat a man who was not only incompetent, but a man if he had it his way would still have my people enslaved and shit. Sure, its comforting to know that my state will be led by a man who was a war hero, was against this war from the beginning, and seems to have a pretty good sense of what right and wrong is, but the icing on the cake is that he beat a man who was so much of a Bush loyalist that he voted with his ass 96% of the time. I know, I should be happier, I should be dancing around the lifeless carcass that is the political career of George Allen, I should be going to all those pro Allen blogs and simply uttering the words "
What now motherfucker!!??
", I should be so happy that democracy worked in my favor that I should call this hooker that I know to come over and sing the National Anthem naked as I give myself a self gratulatory "
yank
". Yeah I'm happy, but here are a few reasons I'm not as happy as I should be.
What is up with my area??
: I've always seen Virginia as that drunk uncle, even though he might piss in the barbecue grill and flirt with your wife at the family reunion, you still have love for the guy. I know, I know, my state of Virginia is as backwards as a dyslexic product of inbreeding, but I just hoped that my state had progressed past "
Hee-Haw
" reruns and Nascar races. Sure, I guess Virginia as a whole showed that they have evolved somewhat based on the election of Jim Webb, I'm more upset at my specific area. Did you know that my city, Virginia Beach, went overwhelmingly for Allen?? Not only that, 5 of the surrounding 7 cities went for that confederate flag loving, rare racial slur flinging, noose in his office hanging son of a bitch. Thank god for the good people of Northern Virginia and their political savviness, because if it was up to my backwards neighbors I'm certain that the return of Jim Crow and cross burnings would be on the next ballot.

It's official, Americans are stupid:
I guess it shouldn't have been a shock to me that the average person in the United States has the I.Q of a lawn chair, I just had to be reminded of it over the past week or so. If it wasn't people smearing Clinton and distorting his record as their retort whenever you bashed Bush, their Fox-news regurgitated claims that the war was going well despite criticisms from top conservatives saying otherwise and the editorial of every military newspaper calling for Rumsfeld's resignation, then we have John Kerry's "bitched joke". The level of desperation I witnessed as people tried to propel something that was an obvious verbal gaffe was pretty sad to see. One case was this young soldier that I had an argument with, he said "
Yeah, Kerry said that we are all stupid. Yep, he sure did!!
" When I told the young man that Kerry was referring to Bush, and asked him how he felt about Bush's "
Nope, no weapons there!!
" joke and the fact that he said "
Bin Laden wasn't a priority
"', he ignored all of that and said "
Yeah, Kerry dissed us!
" Thats when I conceded and said, "
Yeah, I think Kerry was talking about you specifically!!
"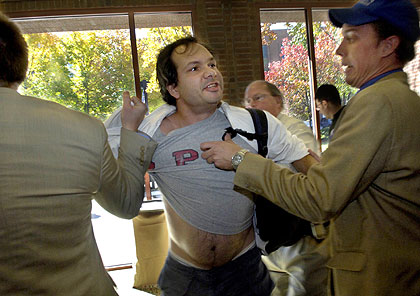 Some of my friends supported Allen, they have to go
: Am I overreacting when I sincerely think that a vote for Allen was a vote for racism?? That being said, I feel that I have to give some of my caucasian friends who voted for that proverbial shit-stain a motherfucking pink-slip. It's harsh, I know, but I'm certain that my jewish friends would disassociate themselves from me if I voted for a candidate that not only used slurs against Jews, but had a weird affection with the swastika. Not only am I thinking about ending friendships, but I'm thinking about visiting every black pastor who campaigned with Allen over the past few months, going to their churces and interrupting their Sunday service by standing up and screaming, "
What in the fuck were you thinking? You are no messenger of god sir, you are a charlatan and you motherfucking betray our trust!!!!
"