The other day I was talking to my friend Chris about the upcoming Jet Li movie entitled "
Unleashed
". Somehow we got on a rant concerning which action stars were the real deal and which ones we might have a legitimate shot at taking down. Here are some fictitious accounts of what might happen if I challenged the following individuals to a bar fight. I'm confident in my skills, I have some boxing skills and I am a master at the throat chop technique. (
Breathes deeply
) Wish me luck.
Jet-Li
: Training:
Jet Li started training at the Beijing wushu academy at age eight (wushu is China's national sport, largely a performance version of various martial art styles), and won five gold medals in the Chinese championships, his first when he was only 11. In his teens, he was already a national coach.
HumanityCritic vs. Jet Li:
I see Jet Li having a few drinks with his entourage at the other end of the bar. Knowing that I have to fight this motherfucker for the sake of my blog, I get liquored up and approach Li. I throw a drink in his face and say, "
Lets go movie star, You and me!"
He slowly wipes the drink off of his face, smiles and says "
I don't want to fight you, you're drunk."
Not satisfied with his answer I throw 5 punches at him but he ducks and dodges them like they were nothing. He then says, "
HumanityCritic, I'm warning you, don't make me embarrass your black ass on your blog
".I come back with, "
Whatever, you can't make me look stupid on my blog
" and I throw another punch. This time he catches my punch mid air, looks at me and says "
I warned your bitch ass
" and proceeds to touch six strategic points of my body. After doing so he slowly walks away. I stand there and say, "
What was that? If that is all you have? You are going to get beat the fuck up, Virginia style
". Jet Li says, "
Critic, I have just given you the embarrassing "paralyzing piss touch
". I say "
whats that
?" He says, "
Well, first you piss yourself
(HumanityCritic begins to wet himself, a lot)
then you find yourself paralyzed for hours
."(HumanityCritic is frozen solid) The whole crowd erupts with laughter, as people pose for pictures alongside my paralyzed body. Shit, it was so bad that people started using me as a human ashtray, and setting their drinks on me. I see that Jet Li isn't to be fucked with.
Chuck Norris:
Training:
He is a black belt in Tang Soo Do and Tae Kwan Do, both Korean fighting arts, and knows all forms of the martial arts. In 1969, he earned the Triple Crown for the highest number of tournament wins, and was named Fighter of the Year by Black Belt magazine.
HumanityCritic vs. Chuck Norris:
Chuck Norris is speaking at one of his many karate schools across the nation. In the middle of the speech I say, "
Come on Norris, bring your bitch ass!!
" He informs me that there are small children present then I say, "
Ooops, my bad folks. Hey Chuck, can I speak to you for a sec
?" Chuck gingerly makes it around the table he was sitting at, which shows me that he has lost a step or two. When we get in the other room he says, "
What is all this about son
?" I say, "
Well Mr. Norris, I have to fight all these action stars for my blog and
.." He interrupts and says, "
You are the guy that got beat the fuck up by Jet Li?? You standing there frozen in your own urine is the most popular screen-saver in the country!!"
Utterly embarrassed I say, "
Enough! Are we going to do this or what?? Being that you used stunt doubles for simple fights scenes while filming "Texas Walker Ranger" tells me that I can whip your ass
!" (HumanityCritic sucker punches Chuck Norris)
*Whap*
"
How you like me now old man
", I say. (
Chuck gets in his karate stance and all you hear are bones cracking
) As I begin to fight him these two guys with the word "Stunt Double 1" and "Stunt Double 2" written on the front of their t-shirts come out of no where and administer a 10 minute ass whipping, beating the black off of me. He stands over me, tells his henchmen to open the door, and when his fans come rushing in he points down at me and says "
If you come back you will get it even worse. You can't disrespect me in my dojo
!" As all of his fans cheer and give him hugs, I crawl out of his establishment mumbling "
You phony motherfucker
!"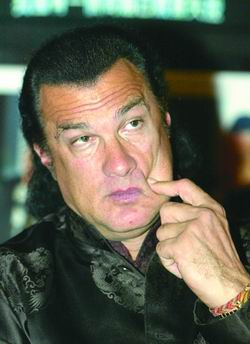 Steven Seagal
: Training:
He started his martial arts training at the age of 7, under well known karate instructor and author Fumio Demura and in the 1960s started his aikido training in Orange County under the instruction of Harry Ishisaka. Seagal received his first dan accreditation in 1974, after he had moved to Japan to further his martial arts training. After spending many years there honing his skills, he achieved the ranking of a 7th dan in the Japanese martial art "aikido"
HumanityCritic vs. Steven Seagal:
I went to Barnes and Noble to confront Mr. Seagal because he was signing copies of his new book "
How to be a movie star and not have any talent
". I stood in line like I was a fan, and when I got to the front of the line he asked me "
Who do I sign this to kid
?". I said, "
sign it to "the motherfucker who is about to wipe the floor with you in a bookstore!"
He gets up, exposing his massive belly and says, "
What did you say to me
?" Looking intense i say, "
You heard me! Me and you, mano y mano
!" He giggled and said, "
You're the blog guy right??"(
His whole crew erupts in laughter) I said, "
It won't be so funny when I beat you silly in front of your dorky ass fans! Look at you dude, do you eat your opponents instead of simply beat them up now? One time your were "Marked for Death", now your pudgy ass is "Marked for a Heart attack
""(Seagal getting heated) I continue, "
When is the last time you had a hit anyway?? You know you are in trouble when you are a washed up B-level star!
" Seagal approaches me but before he could reach me I hit him with one of his books.
*Blam*
As the book falls to the ground it opens when it lands, I notice that its a god-damned pop-up picture book! "
Boy your fans are fucking idiots
" I say. Seagal has gained some weight so I am eating up his grill with jab after jab, he tries to kick me but he can't raise his leg above knee level. "
Finally a fight I can win
", I say as I dance around Steven Seagal tapping that jaw with monster right jabs. I figure he is done, so I back up and run towards him to give him a powerful kick that will finish him off. But when I get to him he sidesteps me and catches me with the most violent clothesline ever, making me airborne for 3 seconds before hitting the ground very hard. As i lay there grasping you air, Seagal says "
THATS the last time I had a hit motherfucker!"
as he puts one foot on my body, posing for pictures. It didn't end there, I was held down and hit with signed copies of his pop-up book by scores of his dorky ass fans.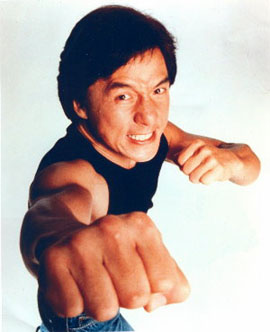 Jackie Chan
: Training:
China Drama Academy for 10 years. There he endured 19 hours a day of the kind of acrobatic action we see in Jackie Chan movies today, in all his grace; mime, dance and martial arts, all thanks to very strict training.
HumanityCritic vs. Jackie Chan
: I see Jackie Chan having dinner with some of his friends one night when I step to him and say, "
Jackie, I am here to.."
He interrupts me ans says, "I know, I know, fight me because of your blog. This shit is silly man, I have received the memo about you and I'm not fighting you! Take that shit somewhere else Critic!" (
HumanityCritic Pauses, wondering why his english is so good on my blog) "Oh yes you are
" I said. He slides a shot glass of saki my way and says, "
Drink this, we'll fight later."
I throw back the shot of Saki saying, "
Thats pretty good
", as Jackie brings about 3 bottles and puts it in front of me. About an hour later I am shitfaced, singing karaoke with Jackie, grabbing girls asses, having the time of my life. At the end of the night I forgot that I was even there to fight Jackie, which I thought was cool until I woke up the next morning. It seems that our beloved Jackie Chan sells organs on the black market, since I woke up in a bathtub full of ice with a kidney missing. "
Damn you Jackie Chan, I'll get you for this!!
"
Vin Diesel
: Training:
Ex Bouncer, Acting School
HumanityCritic vs. Vin Diesel
: Vin Diesel is sitting with a few friends when I go up to him and hit him dead in the jaw and say, "
That is for the 8 bucks I wasted seeing "The Pacifier" motherfucker!!"(I didn't see it
) He stands up quickly, tells his boys to wait there, and tells me that he wants to fight me outside of the club. I'm game, so when we get outside the club I say, "
OK, time to get a "Chronicles of Riddick" ass beating!!
" He looks at me and hands me his wallet and says, "
Take as much as you want man, I'm a pussy. I play tough guys on TV man, that shit ain't real. I sweet like deer meat, the last thing i want to do is fight!"
As I am putting the contents of his wallet in my pocket, I look up and say, "
Are you sure you don't want to fight? I am going to document this on my blog you know?"
He smiles and says, "
I know you are, but who is going to believe your chubby blogger ass anyway
?" I quickly tell him, "
You know, I can quickly renege on the whole "not beating your ass thing
", then he just smirked and walked back in the club.