The other day I was thinking about the benefits of being an insufferable prick. A few of them include the cathartic feeling you have when you tell someone off, the priceless look you get after hitting a gentleman who didn't think that his shit talking would have him getting the business end of a fist, or any random chaos you cause when you lack a conscious. All the therapy in the world can't cure me of being an asshole, and I am secure with that fact because I only reserve my venom for the evil forces of the world.
But, unfortunately, there is a definite downside to being an asshole as well. For one thing, like any asshole like me will tell you, it is damn near impossible to feel pity for myself because every bad thing that happens to me is just chalked up as "
Karma
". My car breaks down, it's because that time I poured sugar in that kids gas tank in high school or that time I went all "
Barry Bonds
" on a guy's car who ran a light and smashed mine up. My personal struggle to find quality Hip Hop, that is because the many years that I shifted into prick mode and openly told certain up and coming Hip Hop artists, to their face, that they "
suck
". So you can imagine the new and innovative ways that Karma puts her foot in my behind when it comes to having a relationship. A girl cheats on me, that's because that time I fucked my co-workers fiancee.(
He used to beat her though, so I "beat" her in other ways. ahem.)
A woman that I am courting stops calling, its because the many times that I have done the exact same thing to some miscellaneous woman who somehow found chubby black bloggers who chronically masturbate appealing. If some woman that I am dealing with loses interest in me, and begins to have the same emotional attachment that one would have to an old pair of sneakers, that is because of the countless women that I have lost interest in because of my ADD or they were simply boring the piss out of me. That's Karma folks, and that bitter broad means business.
I guess I said all of that to confront an issue my friend Brian has concerning a woman that he is currently dating. After he told me the numerous things that she did or didn't do, the words "
Dude, she just not into you
" escaped my mouth. I know, that guy who was on Oprah came out with that Book "
He's just not that into you"
where he tries to alert woman about uninterested men.(
The book should have been called, "Is your ass blind?", "Stevie Wonder can see that he doesn't give a fuck about you!", or "Act like you have an I.Q above room temperature, Jackass!", because of the way he states the fucking obvious
) So I thought that I would provide a helpful guide for men who really have honorable intentions, giving them some quick tips in finding out if that "
special woman
" really likes you or is full of shit.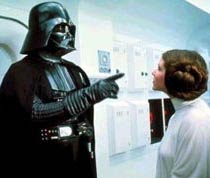 Uncomfortable Conversations:
If I came out and gave a blanket generalization that women could talk your ear off if you let them, there would be a lynch mob of female readers outside my house wanting to do bodily harm to me.(
Or worse, burn my porn collection)
But based on my personal dating experience, if a woman is really into you she will tell you how her day went, her problems with her mother, the reason she has abandonment issues, and any other random fact about her in specific detail to the point that you would expect her to pull out blueprints and shit. But I embrace a woman that likes to talk, especially during the courting period because it means that she is comfortable with me and that's a good thing. The problem lies, especially over the phone, when the uncomfortable silence becomes habitual, like when I tell women to "
scram
" after a 2 minute lovemaking session. It becomes more problematic when you try to invent conversation, offering her questions that require a lengthy answer, only to get 1 to 4 word responses. Personally, because I am feel as insecure and inadequate as George Bush and Dick Cheney in a room of Vietnam veterans, I start to question myself.
"Am I boring her?", "Maybe she doesn't like me?", "Maybe telling her that her mother has delicious tits rubbed her the wrong way
?", are some of the questions I start to ask myself. Granted, there is a chance that the woman herself could be boring as shit, but chances are that she would rather have a tonsillectomy than hang out with your ass. Take it as a loss, get a few lap dances to validate your existence as a man, then move on to someone who digs for you.
Indecent Proposal:
Ladies, you know that a guy isn't marriage material if he openly talks about fucking your sister, taping the two of you having sex on film and putting it on his blog, or eating Macaroni and cheese off your body because of some weird food fetish that he has.(
Take it from me, I've tried those things
) It's my experience that many people, regardless of their actions, really know the difference between what is "
right
" and what is "
wrong
" in a relationship. For example, say you are a recovering alcoholic, and all she talks about is getting shitfaced with her friends and the fun she had throwing up, chances are she has the same feeling for you as she does her doormat, indifferent. If she says something like, "
Oh yeah, I'm going to be hanging with my ex. I know we almost got married, but nothings going on though. Trust me. Oh yeah, did I mention that we are sleeping in the same bed, but naked, high on Ecstasy while a porn tape is playing in the background. We're just friends though
!", its time for you understand that it would be easier dating a porn star, at least she would be honest about that bored look in her eyes when you are on top of her and the other men that she's fucking. Simply put, if someone brings something to your attention that wouldn't be acceptable in any other form of reality imaginable, it's probably time to get the fuck out of Dodge.
It's all about the words baby!:
People reveal themselves, or their true feelings on something based on how they specifically word things. For example, I once dated a woman, when discussing our future date over the phone, would end the discussion with, "
After we go out on the town, I have to go right home because I have to get up early in the morning
". Basically saying, "
Hey pudgy, I don't mind you spending your cash on me, but if you think I'm letting you nakedly sweat on me for a few uninteresting moments you have another thing coming!!"
Someone saying how "
cool
" you are, constantly insisting on "
lunch dates
" instead of "
dinner dates
", their openness about guys that hit on her, and shit like that are pretty good signs that she rather tell you about guys she's fucking instead of letting you take over that particular job. Women are also more visual, and have a very Nostradamus view of their future, so if in a conversation she says something like, "
What kind of woman do you see being with next? What type of woman do you think you want
?" Huh?? I thought
WE
were dating, I want
YOU
, I thought me spending 200 dollars for dinner and not having sex showed you that
YOU'RE
my type asshole. It's all about the words, just listen closely.
Body Language:
I love women, besides their wisdom and their grace, they are sensual beings in all aspects of the word. Whenever I have dated a woman that actually liked my brand of bullshit, if I was to put my arm around her or hold her hand, my advances were welcomed. For women who find said advances frightening, even if they don't say anything verbally, their body language gave it away immediately. Like this one time I was dating a woman and went in for a kiss, she turned her head like I was a complete stranger.(
Full disclosure
:
I had just came from a strip club where a dancer, mistakenly and rather innocently, rubbed her vaginal piercing on my face. This could have been the reason, but I don't particularly think so.
) Or this one time that I attempted to hold the hand of a woman that I was with one night, she yanked her hand in disgust while giving me a menacing look. It's all about body language.(
Full Disclosure again
:
She had just witnessed me getting a number. In a club that she frequents. The woman was a nemesis of hers. But that couldn't have been it though
) But seriously, the body language that they give off while in your presence says everything.
In no particular rush:
There are many highly intelligent women who read this blog, of many walks of life and different backgrounds, so what I am about to say is based solely on personal experience. But, would I be wrong, based on that personal experience, to say that women are more eager to enter a relation than men? Looking back at the women that I would one day call my girlfriend, they were ready to label it a "
relationship
" a lot longer than I was. Fellas, if after a few months you are the one that wants to stomp the gas pedal on the relationship highway and she keeps putting on the emergency break, she's probably not that into you. I know there are many reasons why a woman might not want to pursue relationships, but if there isn't a real good reason given and you feel yourself dangling in limbo like Usher's acting career, you might want to reassess your current situation. This one woman acted so indifferent about any future we would have together or me as a man, I felt that I was bugging the shit out of her, damn near on a stalker level.(
I didn't even send her love letters in blood, or camp out in front of her house. Sorry Rosario
) So men, if you have a history of avoiding relationships the same way Courtney Love avoids showers, and you are dating a woman who treats the prospect of a relationship with you with the same indifference one would have towards neckties, assume two things:
1.
Karma has her stiletto lodged in a very hidden orifice of yours and
2:
She's just not that into you.