You know, when your mother refers to you as her "
asshole son
" it's time to re-evaluate your behavioral habits just a bit. She loves me, look at her using a slang word for someones rectum to be a term of endearment, but behind every joke there is an ounce of truth in there somewhere. Truth be told I relish in embracing my "
inner asshole
", as long as I don't include family and friends on the list of victims that I check off one by one of people to piss off, then it's quite alright. Many of you know that over the past few months I have had weekly therapy sessions, trying to soften my daily aggression by sitting on a very expensive couch, talking my ass off while secretly wondering if one day I could tell my friends a
"..and then I bent her over and fucked her on her Italian couch
" story. Well, Therapy-Shcmerapy I say, as I have quit therapy and learned to embrace the fact that I will die one insufferable prick. All that being said, it's easy to embrace being an asshole like it's the coolest thing in the world(
as I just did
) but it is a totally different story when your actions have repercussions that can't be denied. So for the new readers not familiar with my random tales of cursing out a member of the clergy, or threatening off duty cops, I'm going to do you a favor today. Like how Jeff "
porn star mustache
" Foxworthy had his ways of telling when someone was a "
Redneck
", here are a few examples explaining why I am an asshole.
You know your an asshole when:
You have been dis-invited to a wedding:
If I was a superhero, fighting crime and ridding the city of scumbags as far as the eyes can see, I think that my Kryptonite would be a combination of three things:
Titties, beer, and weddings.
As for the last one, I don't know what it is but I like weddings to be totally honest. Seeing two people who love each other to be joined in holy matrimony, the gowns, the dresses, the overall spectacle brings a tear to the eye. OK, who am I bullshitting, I go for the free food, liquor, hoping the best man gives an embarrassing "
remember when you fucked that transsexual in Mexico
" speech, and hoping that I can get one of the bridesmaids to give me a "
hummer
" in the back of her 85' Escort. But when you are an asshole like me, having the experience of hearing a woman say mid coitus "
don't get any of that on my dress
" is few and far between.
The first time I was dis-invited to a wedding it had to do with what I did at my boy Mitch's birthday party one year. Mitch is a great guy, battled cancer, always dated women who stepped all over him, and was the nicest guy you'd ever want to meet. Well, Mitch took it upon himself to tearfully propose to his girlfriend in front of all of us, she accepted and looked like the happiest woman in the world that day. Fast forward a few minutes when I hear her girlfriends try to talk her out of it, asking her "
Are you sure you wanna do this
", and telling her "
Girl, you aren't the marrying type. Fuck that N*gga!"
Outraged because of how nice Mitch was, as soon as his girlfriend left I drunkenly threw the fruit punch that was sitting in front of me all over the women who tried to sabotage my friends marital plans. At the time I thought it was funny, I guess weed and liquor does that to a person, but it absolutely horrified everyone in attendance.(
People were screaming like I had just assasinated a elected official
) The next year or so was filled with bitter arguments between Mitch and everyone else whether to invite me or not, threats from the boyfriends of the women who I gave the Hawaiian punch shower to, ending up with Mitch telling me to "
come anyway
". I didn't go, I really wanted to go and support my boy, but it was his day and I would have just been a distraction.
When a priest calls you a "fucking asshole!":
OK, he wasn't a priest yet, but he was studying to become a priest soon.(
Is it seminary school??)
At least 3 times a week I play ball at my local YMCA, it's not as crowded as the local recreation center, and I feel like Michael Jeffrey Jordan whenever I play ball there because my competition is usually old ass men. Anyway, one of the guys who played there was a young dude named Justin who I hated playing against because he had a defense game that frustrated me more than "
gay husband
" questions being thrown at Star Jones. I knew that I had to find something to use to get in his head, get him off his game to give me the advantage, that's when I learned that he was studying to become a priest. That's when it began, a pretty girl would come in the gym I would say, "
You know that's off limits to you, just put your nuts on the shelve for eternity
". When I would block his shot I'd scream "
Thall shall not come with that weak shit!!",
when I would cross him over and pass him I would say "
You know, even Jesus is shaking his head at that weak ass defense!"
, not to mention who many priest/child molestation jokes I made.(
I even asked him how "semen"-nary school was going
) It worked, he didn't guard me the same, but I knew that I had taken it too far. The day that I was going to go up to him and apologize, he walked up to me, face beet red and said, "
You know, you are a fucking asshole
!!!" Not only did it make me pause for a bit, I kept expecting a lightening bolt to hit me and finish me off.
When you almost beat someone up for commenting on your blog:
I think I run this blog pretty fair, outside of the occasional asshole who comments here for the mere pleasure of saying some dumb shit, I don't censor anyone or argue differing viewpoints. Hell, I'm a Kobe Bryant fan and I think that 70% of the people who frequent this blog think that he is a fucking sanitary napkin, and when you have expressed as much I didn't bicker or erase what you wrote. But one thing I hate is when someone comes on here just to talk shit, especially to do it anonymously and expose their cowardice. Anyway, I was dating a girl last year who was getting out of a bad relationship, I think she was in the process of moving her stuff out of his home when he worked his night job at FedEx if I remember it correctly. She had said that she had accidentally left her computer on my blog page, and she that warned me that he was petty enough to talk shit on my blog. I didn't think much of it, until I got comments ranging from "
Your blog sucks!!",
"
Pussy
", and random threats of violence that were more comedy than anything. I was curious to see who it was, so using sitemeter I was able to successfully track where it was coming from(
because my blog only gets triple digit hits a day, so when you comment 4 in the morning it is easy to see who it is specifically
) and I knew it was her ex doing it because it showed it was coming from a FedEx computer. So fast forward a couple of weeks later, when I was the only one available to help her with a big ass dresser she needed to get out of his house, he was there giving me the "
Ice grill
" so to speak. I knew I should have just let it go, but I confronted him in a way that even I'm ashamed to admit on this very blog. As he screamed, "
I never left any bad comments on your blog dude!!"
I realized that I am the biggest dork in the continental United States.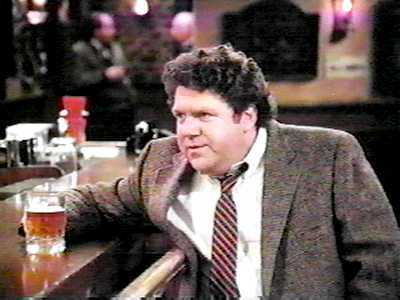 People dread sitting beside you in bars:
I consider myself a pretty nice guy, a person who constantly finds himself engaged in conversations with total strangers. My thing is, just don't bother me with a irritating back and forth when I am trying to get my drink on. If I know you, it's cool but if you are some drunken asshole who suddenly wants to be my buddy, or some foolish women who made the poor decision to ask me to buy her a drink, be prepared for my wrath of asshole behavior. Any time I find myself being talked to death by some asshole while getting a drink, after he doesn't get the hint that I'm not feeling sociable, I have been known to calmly say "
Can you just shut the fuck up and leave me alone immediately
!" I have been known to get country on women who want me to buy them drinks waiving my hand and yelling "
GET!!",
or "
get the fuck on!!"
I even like to dig in a old school bag of tricks and embarrass the piss out of people by saying "
Scram
", or "
Beat it!!"
I know its just me being an asshole, but when you see the face of the people who you have just embarrassed, it is pretty fucking priceless.