Halloween is quickly approaching, where kids who are usually scared shit-less to come to my door because I am the "
evil black man on the block
", will flash their shit eating adolescence grins and ask for candy like I am the coolest motherfucker on earth. Some of them are pretty smooth, somehow even learning my last name to finesse the situation even further. It's funny, I promised myself that I would be the adult on the block that would give out the crappy stuff, like nickels and pennies and shit. I even did that to one kid to see what they would do, and when that little girl gave me a look like I had just murdered Santa Claus, I gave in and gave her a bowl full of sweets(
Yeah, I am a push over
)
But as years pass, and as I witness the dwindling numbers of children trick-or-treating nowadays, I reminisce of when I was a kid and all the crazy times that I had on October 31st.
Shotgun Larry:
Like anyone who ever lived in Naval Housing will tell you, the cast of characters and ethnicity's that live around you are quite diverse. One of these eccentric individuals was a man that the kids dubbed "
Shotgun Larry
". Larry was a Vietnam Veteran who obviously had some post traumatic stress disorders from the war, because for one thing all of his stories involved the "
murdering of Vietcong
", the "proper way to throw a grenade", the time he "caught the clap" from a Vietnamese hooker, and early in the morning you could see Larry on his roof clutching a shotgun and mumbling to himself. My parents didn't want me passing his house at all, so the message was sent that Larry was nuttier than squirrel shit, period. One Halloween we decided to do the average childhood things, trick-or-treat, scare other kids half to death, and roll people's houses with toilet paper. We must have done abut 12 houses that night, laughing until I couldn't breath as we basically covered this one house with double-ply toiletries. Then we get to Larry's house, and my friends dare me to "
roll"
his house and call me a "
chicken-shit
" if I don't. I refuse, then they start calling me scared, clucking and whatnot very loudly. Beside the fact that I was all of 10 years old, I was not one to have my manhood challenged, so I grabbed a piece of toilet paper and cocked back to throw it. Well, apparently "
Shotgun Larry
" was hiding in the bushes because before it left my hand he grabbed my arm and said, "
Oh no you don't!
" We all let out loud girlish screams, then my friends took off like they had heard the Ice Cream man or some shit.
Here I am, screaming because not only does this crazy motherfucker have a grip of my right arm, he is gripping a shotgun with his other hand. I screamed, started crying, I even think I used the uber stupid tactic of "
mock
" passing out, but none of that shit worked. As he walked me to my door he said some more scary shit like, "
You now what I would do to a Vietcong that tried to ambush me like you did??"
My eyes got wide and I continued screaming, "
Help!! Help!!!!!"
He took me to my front door and rang the bell, where my mother answered within seconds. He explained what happened, and my mother just nodded her head in agreement, not because she agreed with his actions but because he had a shotgun in one of his hands. My mother was like, "
Thanks Larry, I will take care of it
", then closed the door quickly. I looked down and I had pissed myself, a lot, like I had spent the entire night in a Jacuzzi. My mother promised not to tell my father after I begged her for an hour, primarily because urinating on ones self isn't a great introduction into manhood, and also he might have gotten shot the fuck up if he confronted Larry. I still remember my mother saying, "
I won't tell your father, "Pissy Drawers!!"
Yep, she's a nurturer.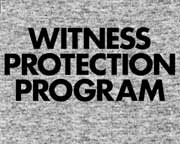 Witness Protection Program:
One year my father had taken in the grandson of one of his Naval Mentors, a kid named Shawn. Shawn, who was a troubled kid and about 5 years my senior, so he became like a defacto big brother. No disrespect to my real brother, but being that my real brother was 11 years older than me, he wasn't going to beat some older kids ass that gave me a hard time. Anyway, there was a kid that started some discount gang in my neighborhood, and even though I just learned to fight, I couldn't take on more than one person at a time. This one Halloween a couple of those "gang members" stole my candy and beat my ass, sending me home crying like Kobe Bryant at a press conference. I told Shawn what had happened and immediately he went into his room, grabbed his nun-chucks(
because he was into Karate at the time
), and raced out the door with me close behind. All in all Shawn turned out to be a piece of shit, stealing from my family and whatnot, but that night he was my bona fide hero. He ran towards that gang and basically beat the whole crew with precision and accuracy with those two connected wooden sticks. As I regained my candy, Shawn reached down and grabbed the main one by the head and said,
"Kick that motherfucker in the face for stealing your candy!!"
I hesitated at first, but I think I remember kicking him 2 or 3 times, and boy did I like that feeling.
When we got back home and told my mother what had happened, she said something quite surprising for a woman that I figured was a pretty straight laced woman. She said, "
You guys better lay low for a week or so, until the smoke clears. Those fuckers are going to want revenge!
" My mother claims that she doesn't remember saying it, but I sure did. Mom getting all "
Goodfellas
" on a motherfucker.
Girl Fight:
When I was younger, I wasn't as politically correct as I am now, instead of simply pouring a malted beverage on a woman that pisses me off, I used to do the unspeakable and call them out of their name. I guess I could chalk it up to age I guess, or the crowd that I hung out with, but it probably had something to do with my father's favorite phrase concerning women being "
The B*tch ain't shit!
" So, since kids are like sponges I absorbed this word and called any female that outside of my mom and my sister, and any other female family member that could kick my ass. Anyway, one day my friends and I were playing basketball when this girl named Wanda wanted us to leave to play double-dutch. When we refused, she tried to physically move us herself, which led the fateful words "
get your hands off me bitch
" to fly out of my mouth. Wanda walked up to me and stared me in the eye for a couple seconds, and proceeded in slapping the taste out of my mouth. I was embarrassed, put my hands up to fight her, but she was a big girl who looked way too eager to fight for my taste so I did what any self respecting black man would have done. I ran home, and for the following week or so I was ducking her the same way Courtney Love ducks showers. That led to Halloween night, where word was out that she was looking to put me on the business end of a beating.
I trick-or-treated like normal, not worrying about her, until she slapped me in the head with a wiffle-ball bat out of nowhere. For the next 15 minutes she was chasing me in between houses, between kids roaming the streets, through cars, ignoring my screams of desperation en route to handing me a beating. Suddenly I crossed the street and when I heard some squealing tires I turned around, and a small compact car had hit Wanda as she tried to catch me. Because she didn't get hurt that bad, I can say this with confidence: I
have never been so happy to see a person get hit by a car in my whole life!
As the driver got out of her car to see if Wanda was alright I yelled, "
Yeah!! Now what! haha!!"
But Wanda was really hurt, balling and whatnot, so I canceled my victory dance and helped her home along with the driver of the car. Later, Wanda told me that she only tormented me because she liked me, even though slapping the shit out of me is a hell of a way to show it.