My old man was old school, being that he was raised in a environment so racially charged that it would make the writers of "
Mississippi Burning
" collectively wet themselves, his gems of advice went like this.
1.
To get anywhere in life you have to work twice as hard as your white counterparts
.
2.
Never compromise your integrity
3.
Asian pussy is to die for
(
his words, not mine
) and
4.
Don't grow dreadlocks.
Number four was and is very interesting to me, it also to some extent exposes a bit of forgivable hypocrisy a lot of black folks raised during the Jim Crow area have. I mean, my father was all militant and shit, but at the same time he didn't want me locking my hair because of what some white people might think. I know, I know, he was concerned about me getting a job and all that, but at the end of the day that is still caring about what someone else thinks. But because I had the belief that I wouldn't want to work for someone how judged me on my hair anyway, and the fact that I was a grown ass man, I disobeyed my father and decided to lock my hair anyways. As my hair grew my father's feeling of me possibly looking like "
Buckwheat
" changed drastically, he even told me on his death bed to never cut my hair because of the strength in exudes, also because he said that I looked like a "
Black Jesus with a thyroid problem.
"(Again, his words not mine.)
Listen, I'm not one of those House Negro Armstrong Williams cats, trying to say that racism in America doesn't exist, but I haven't had any of the negative experiences that my father thought I would based on how I wore my hair. That's not saying that I haven't had my share of problems though.. Here are a few.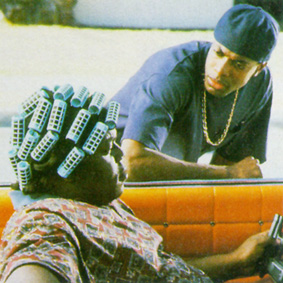 I don't have weed on me!!:
Truth be told I do have marijuana of some kind on my person 2 out of 4 times, but the mere assumption that I must have weed on me because I have dreadlocks is pretty fucking offensive. This idiocy knows no bounds in term of color, both black and white people will either give me the universal "
finger tips to the lips, do you have any smoke on you?
" signal, or they will come to me with the following silliness: "
I'm saying, you just look like the type!!
" What kind of shit is that?? Do they think they can get away with that shit just because the topic is weed, and not say, chicken, watermelon, high blood pressure, or black on black crime?? Those are the few times I wish I was a narcotics officer, not only to get law breakers off my city streets, but also get to physically abuse any misinformed fuck who thinks that all black men with dreadlocks are a walking fucking greenhouse.

I'm going to have 12 years tattooed on my forehead:
People are usually nice about this, but if I had a quarter for every time someone asked me "
So, how many years have you been growing your hair??
", I would have enough coke and whore money to retire on. To combat this, I once wore a black wrist band with the words "
12 years
" on it, so when someone asked that question I'd put the wristband in their face immediately. What I thought was a clever invention, other people found both rude and completely anti-social. Plus, when I would get completely shitfaced drunk, simply flashing the wristband would turn into me grinding said wristband in the questioners forehead.
Yeah, Yeah, you used to have locs. Whatever.:
It never fails, whether I'm sitting next to a black woman, a blond haired blue eyed male, a hasidic Jew, or an arab girl, I always end up being on the business end of a "
You know, I used to have dreadlocks
" story. Just because I wear Adidas I don't want a lecture on how they are made, just because I'm a black man doesn't mean that I want to be hit with a black history lecture, what makes your feeble ass think that I want to hear a story(
a bullshit story at that
) about the time you had dreadlocks?? You know, for years I would be nice about it, nod and smile until their diatribe was over. Not any more, nowadays I either immediately scream "
I don't give a fuck!!
" like I have a mental disorder, or I palm their face and mush them backwards mid-sentence.

The "isn't that hot and heavy" questions:
If I see some lady with an extremely fat ass I don't ask her, "
Doesn't that get heavy?
" because I'm sure she has gotten used to carrying all that cargo around for some time. If I see an extremely hairy man, a dude that looks like you could shear him and make coats for a small village, I don't ask him "
Doesn't that get hot??
" because I'm sure that beastly "
manimal
" is accustomed to it by now. For Christs sake people, my hair isn't heavy to me, or hot, because a motherfucker is used to it!!

Hey, do I look like a poodle to you??:
Not for nothing, but I absolutely hate it when people walk up to me and start touching my hair. I've talked about this before at length, but it happens so frequently I just have to revisit it. Granted, if you are a buxom female with an agenda of fucking me silly then fine, I'm a whore like that. Other than that, if some chick decides to randomly stroke my hair she'll hear "
I've got something you can stroke honey!!
", or any other retort that I can think of at the moment that involves the touching of my penis. Some women, I guess upset that they haven't grown a full head of real hair since 79', at times take it upon themselves to yank my hair to see if its real. Like last week, when this young woman pulled my hair I immediately pulled hers and said, "
You don't like it much do you?
" In which she responded, "
But I pulled your real hair, I have a weave!!
" That's when I squinted, reached for her face, pulled a few hairs out of her chin and said, "
Ok, those were real!
"