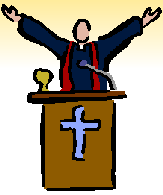 Over the past few years I have had friends and family members that have dedicated themselves to the Lord. Even though I went to catholic school, the only thing that i gained from my attendance were the early-teen erections that I used to get from seeing girls in plaid skirts. Overall, I believe that finding Jesus is a good thing if you aren't fanatical about it. The following are some examples of individuals that took their faith on a cult-like level.
Christy:
We all know someone that was rather promiscuous back in high school, Christy was the epitome of neighborhood freak. Everyone that I knew had a piece of her at one time, and she had absolutely no shame about all the guys she ran through. This behavior continued up until her late twenties, a couple of years ago, when she found the Lord. I am happy for her, I really am, but every time i see her its like she is giving me a sermon. Not only that, she is very judgmental and talks about how I am a sinner and that I am going to hell if I don't fully embrace our lord and savior. I had been pretty patient to her for the longest time, somewhat proud that she had ceased being a fuck doll for miscellaneous men. I saw her in the store a couple of months ago an when she began to criticize my lifestyle my mouth got me in trouble once again. I reminded her about the time that she slept with the entire football team, had sex with a teacher at our high school, stint when she was a escort, and all of the B Level rappers that she slept with.(
Wrecks n effect, MC Brains, etc
) I hated to put her in check, but sometimes you need to bring the self righteous types back to earth with their high and mighty routine.
Reggie:
I know that I have documented many scrapes and scuffles that I have been in on this blog. But Reggie was so violent and malicious that he made me look like mother Theresa. The guy has shot, stabbed, and maimed people for life and the mere fact that I am still around and didn't get a stray bullet that was meant for him is a small miracle. Honestly, I would bet good money that Reggie has actually killed people, not particularly a guy that you would want around your mother. Fast forward more than a decade and that bastard is a deacon in a church in my town. You would think that he would mask his violent past to the people in his church, but to his credit he embraces it and uses it in his sermons. I mistakenly went to hear him preach one day and he called me out in the front of the crowd, telling the people that he used to cause mischief with me back in his sinning days. No shit, it reminded me of the scene in Malcolm X when his old friend Shorty goes to see him speak and Malcolm tells the people that Shorty represents his hoodlum past. Now that I write this I can't find too much fault in Reggie's transition into religion, but there is one thing. OK, Reggie apparently reads this so here we go. He called me the other day and told me that I should calm down and control my temper. I told him that I found that strange since he is the same person that
1)
Threatened a female bartender with a broken bottle because she made him a weak drink.
2)
Had to be restrained by me because he was about to beat up his girlfriends mom when she called him ignorant
3)
He once chased a guy for 20 Miles on the highway because he cut him off, I was in the car begging him to slow down like a bitch. Come on reg, I know you are a preacher now but save that shit for someone else.
Terry
: Terry is a dude i have known for most of my life, and we share a love for hip hop. At least we did until recently, now his new found faith rejects anything Hip Hop related. We were in my car on a Sunday and i was playing some Tribe called Quest. Anyone who knows their music can tell you that they are far from vulgar, and rarely used curse words in their rhymes. When I started playing it Terry took the CD out and said something like "
This is the Lords day, don't play that
." I not only told Terry "
Fuck you
", I informed him that he could get out of my car and walk it with his T.D. Jakes wannabe ass. A few weeks later I went to his church and it freaked me out, it was some David Koresh-branch davidian shit. People wearing sandals and beads, chanting and shit, the only thing that stopped me from leaving was this woman that had told me that she would cleanse me of all my sins. Since she had a body that wouldn't quit, I mistakenly said "You
can cleanse me alright
!" For some reason she didn't find that humorous. All of a sudden they got in line and the preacher was laying hands on everyone and they were falling the fuck out. As I stood in line I wondered, "
What if nothing happens when old dude touches me, would that mean that I am some sort of demon child or something
??" I got out of line and said to myself, 'F
uck that, I practice catholicism, I have my own fucked up religion to deal with!
"
Olivia:
She was a manager that I had back in my rapping days. I was with a rap group, and we really started off with a bang and got some citywide love early. She wanted to be our manager, so soon after that we were under her "tutelage". In hind sight she didn't know shit, hired the wackest producers for us, and kind of stumbled her way through the whole process. Did I mention that everybody in my group slept with her except for me. Not saying that i took the moral high ground by not sleeping with her, I was just kept in the dark about the sexual activities of my band-mates and my manager. What resulted was a overall lack of respect for her when she ran through my crew, and our group eventually disbanded. I saw her a few years ago and she is a bona fide Jesus freak. She handed me pamphlets to her church, and a shitload of literature concerning biblical teachings.(
Did I just use the word shitload in the same sentence that I used the word "biblical teachings"? Someone please pray for me
) As she lectured me about turning my life around, I couldn't get the image out of my mind of 3 of my band-mates filling her from both ends like a pair of fucking Chinese finger-cuffs* in the back of a musty ass van. Praise the Lord!
*fingercuffs is a reference from the movie "Chasing Amy"