Life is filled with disappointments, whether it be career oriented, or being let down by a loved one unexpectedly. I have gave you my opinion in list form of the greatest
male
MC's, top
female
MC's in my opinion,
groups
, and those who fall under the
wack
category. The following individuals might have great lyrical talent, but their career didn't go the way that I personally expected. But hey, a couple of guys on this list are filthy rich, so what in the fuck do I know? Here is another list(
try not to steal this list as well you fucking blog biter, and you're still biting I see..Ahem
)of Hip Hop Underachievers.
Eminem:
When he first came out I was his biggest cheerleader. When cats were dissing him simply because he was white I would not only inform them on how ignorant they were, but I would point out that the dude was extremely talented lyrically. He has a way with words, and he has so many flows you can't really pin point one particular style to him. He is talented, and can go toe to toe with any rapper out there. His albums are another thing. The first couple had a few things that I liked, but I basically forgave him because I expected this "great" musical growth. Years past and it never came, it was always more of the same. The saddest part is that Eminem has a built in audience, he could put out an entire record of him on the toilet and it would go triple platinum. So you would think that he would use that opportunity to promote some cutting edge Hip Hop, some straight up underground shit that I know he probably wants to do. Nope, he has remained faithful to the TRL crowd more or less and that's sad because he is wasting a golden opportunity.
Rass Kass
: I have always had a deep respect for this MC hailing from Carson California. One of my favorite lines from his is, "
I drink Listerine, and Brush my teeth with amphetamines/So I can sound fresh and say dope things
." Classic. But waiting for him to drop a coherent album is like waiting for
Condi Rice
to make black folks proud, just ain't going to happen.(
Unless you are of the House Negro variety
) I once heard him say that he isn't concerned with beats which puzzled me. If you say that you aren't concerned with crossing over then that's one thing, but not caring about spitting over a hot track is the equivalent to you not wanting a tasty meal, or a lover with a fat ass. It's just stupid to me. The cat still spits fire, but that doesn't mean shit if you can't gather a focused 12 or more songs.
Canibus
: Very lethal MC, who made the lethal decision of going against the G.O.A.T(
greatest of all time
) or so he calls himself, LL Cool J. He has some of the sickest rhymes out, with razor sharp visuals that would cut you like a knife. When I heard his first release it sounded like a glorified demo type, with no real vision behind the music. Of course he blamed his album of Wyclef, but his ass had a chance to hear those tracks before they made the album, come on Canibus..I got a hold of one of his recent CD's and I noticed that he has 1 style, 1 delivery, always in attack mode and he never changes up. You would think someone who has the ability to come up with such interesting lyrical content would change his style up a bit.
Royce da 5'9:
Royce, Royce, Royce..What happened? You came up as Eminem's boy and you had a clear path to super-stardom, what in the fuck happened? Rumor has it you were pissed that Eminem was taking too long bringing you out, so that is what caused the split?? I don't really know, but it is a shame. It's a shame because Royce is better than anybody that Eminem has ever signed. 50, D12, Obie Trice, he's better than all of those fools. Hopefully he will find a place to shine, but for all the high hopes I had for this brother it looks like he is a big ass disappointment thus far.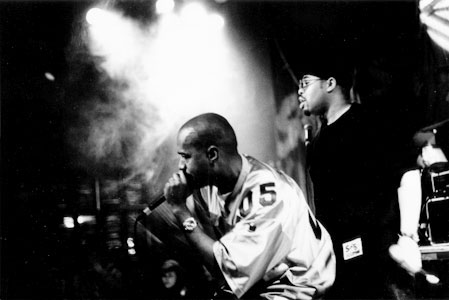 Mad Skillz
: I remember seeing this dude freestyle on stage alongside A Tribe Called Quest more than a decade and he tore it up. I anxiously awaited his album, and when it came out I realized that just because you are a good battle rapper doesn't mean that your ass will make a decent recording artist. Over the years I have seen him on people's singles, and dropping his own material, and to say that he bores me is a understatement. I know I shouldn't hate on the cat because we are both from the Virginia Commonwealth, but fuck that this dude annoys the piss out of me. From him having this weird beef with Shaq, to those irritating year end wrap-up songs, I am wondering why he is even still around. You know the same way Martin Lawrence is allowed to make bad movie after bad movie, you want to ask "Who keeps giving this jackass work??!!".
D.O.C:
OK, his underachievement has nothing to do with bad career moves, it has to do with a car accident that ended his career too early. His album "No one Can Do It Better" is still one of the best West Coast records of all time. Definitely ahead of his time, it is just a shame that he wasn't able to bless the Hip Hop community with any more classic material.
Bahamadia
: In a world where its hard to find a female MC who not only possesses Mic skills, but doesn't show her ass every 5 minutes is a rare occurrence. Bahamadia, hailing from Philadelphia was for a brief moment in history a breath of fresh air in this smog filled world of the female MC. She had lyrics, flow, she was a legitimate artist. I don't know what happened to her, the last album that I heard from her was wack and unfocused. But I hesitate to diss the female MC too harshly, not to be chivalrous, but because in a society where the female rapper has to sell sex at every turn, it makes it difficult for legitimate sisters to get a fair shake.