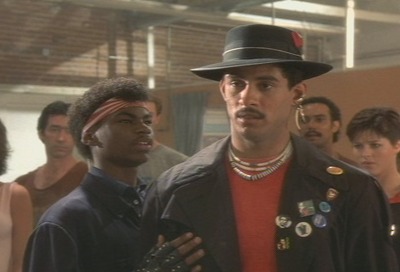 I always wondered something, does a movie that you loved as a kid average out to be bad simply because you have grown to despise it in your adult years? Do you buy into the theory that a film should be judged on how you felt about it at the time, being that it was made for the specific age demographic that you were in over 20 years ago?? Well, this is how I feel about the movie "
Breakin
'" and "
Beat Street
" to be totally honest. Being that I was raised in Virginia Beach and didn't have any "
..and then the DJ plugged his equipment to the light post
" stories, those of us outside the Big Apple had to latch onto any part of the culture that we could get our hands on. "
Breakin'
" at the time was my shit, and "
Beat Street
" felt like I was getting a first hand account of what New York Hip Hop was all about.
Now that I'm older, and consider myself better versed in Hip Hop culture, I can't get through 5 minutes of the movie "
Breakin'
" without laughing my dreadlocked head off. Of course "
Beat Street
" has become corny as well, but nothing equals the cheddar cheesiness of "
Turbo", "Ozone
", the first white woman I had impure thoughts about, "
Kelly
" aka "
Special K
", and the bad dialogue that came out of their untrained acting pie-holes. But more than 20 years later I thought I was done being subjected to break-dance "
broom
" routines, the sub-par dancing of Kelly, the overacting of Ozone, and the shitty script that makes you think that it was written during a 24 hour coke binge. I was wrong.
As I was on one of my favorite sites, IMDB, I saw what I believe to be the worst idea since Lance Bass' solo album, another "
Breakin'
" movie. Even though it is being called "
The Untitled Break-Dance Revolution Project"
(because there is no title yet) with Turbo(
Michael Chambers
), Ozone(
Shabba Doo/Adolfo Quinones
), and the actors Lucinda Dickey(
Kelly
) and singer Ginuine are simply in negotiations, you can't fool me.
This is going to be motherfucking Breakin' 3 and shit!!!
Please, if my miserable blog has any influence out there, we have to make sure this monstrosity doesn't happen. I can deal with "
Breakin'
" because I was 12 when it came out, but I'm a grown man now, wack ideas can get people hurt.