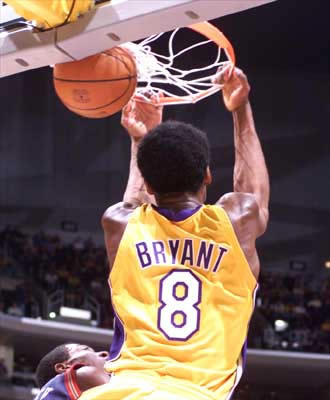 A couple of days ago I pulled out my verbal violin and played a journalistic tune as depressing as a Marty J Blige interview, expressing how hard it was being a black skateboarder. It was a bit much I admit, but when I think about how hard it has been being a Kobe Bryant fan over the past couple of years, I feel like I should fucking underline my point by having a Billy Holiday song play in the background while you read this. If it is not listening to the brilliant retorts from Kobe haters like "
But he's an asshole!
" in response to intricate Johnny Cochran defenses of Bryant, the way NBA analysts universally tried their best to push the notion a couple of years ago that Manu Ginobili and Dwayne Wade were better than Kobe, watching a deplorable NBA rundown show on ESPN with Tim Legler and Greg Anthony where they implied that the viewpoint of sports writer Ric Bucher was irrelevant because he "
never played basketball
" just because he said something complimentary about Bryant. It's horesehit like that, along with Vince Carter's criticizing of Kobe Bryant's 81 point game as a "
bad example for kids
"(
Vince "I never saw a shot I didn't like" Carter?? Shut up dickhead..
) that makes this past season even more sweeter for Bryant fans like yours truly.
When I see people eat shit, like Stephen A. Smith damn near giving Kobe a mouth-hug during his interview with him even thought he was one of Bryants most outspoken critics. Hearing douchebags like Tim Legler praise Bryant as the "
best in the game"
even though he once said that Ginobli was a better player, and the scores of NBA analysts and sports reporters who's flip-flops have them looking like a pair of tits. I feel like Biz Markie on some "D
amn it feels good to see people up on it
" shit, as my Lakers go to the playoffs. Honestly, they probably won't go far, but here's hoping that they do.
My "

Kobe for MVP

" argument:
*
81 point game, 2,832 points this season(7th all time, all time leading Laker), *35.4 points a game average(
best since Jordan in the 86-87 season
),
*
One of only two players in NBA history to score 35-plus points per game for 13 consecutive games (
the other is Wilt Chamberlain
)
*
One of only three players in NBA history to score 40-plus points per game for 9 consecutive games (
the others are Michael Jordan and Wilt Chamberlain
)
*
One of only three players in NBA history to score 45-plus points per game for 4 consecutive games (
the others are Elgin Baylor and Wilt Chamberlain
)
*
One of only two players in NBA history to average 40-plus points per game for an entire month on two separate occasions (
40.6 ppg in February 2003, 43.4 ppg in January 2006
)
*
Became the first player ever to outscore the opposing team through three quarters since the advent of the 24-second shot clock after scoring 62 points in three quarters of play on December 20, 2005 vs. the Dallas Mavericks
*
NBA regular-season leader, free throws made: 2006 (
696
)