In an age where it seems the only prerequisite of being a Hip Hop journalist is simply stringing a coherent sentence together, based on the countless music themed television shows I've seen where a so called "
respectable Hip Hop journalist
" waxes poetic about the lyrical prowess of Lil Wayne or Young Jeezy, it's obvious to say that I don't respect any networks belief of what the greatest MC's of all time are. I mean, I saw a list on VH1 once where they had a hooker with studio time(
Lil Kim
) and a Tupac wannabe(
Jah Rule
) ahead of some of the all time greats in the Hip Hop, it was so ludicrous that I planned on storming the VH1 building equipped with Rambo-like artillery so I could get some answers.(
That planned was abandoned when I realized that I'm a dude with long dreadlocks and a big butt, not really an ideal combination in prison
)
So when a reader(
Vee
) directed me to
Mtv's list of the greatest rappers of all time
I just knew it was time to dust off my handy Rambo knife with the compass in the handle. I have to be honest though, as I read their list of the top rappers in history I wasn't really that mad at it. It wasn't that far from
my list
, and the mere fact that Mtv didn't feel the need to cater to any geographic area outside of the west and east coast by throwing some rapper who wasn't worthy to be on said list was pretty impressive. That being said, there are still some slight problems that I have with the list, so I will go down the list and make my true feeling be known. Not to mention, when I saw the footage of the assbags who were voting on this particular list I was shocked, especially when one writer claimed that Black Thought only had "
one flow
".
(*Sidenote*
I had to laugh when Sway said that the writers who came up with said list were the "smartest, most knowledgeable minds at Mtv News." Isn't that like being the brightest kid with Down Syndrome??
) Obviously the following observation is just my opinion, so fuck you if you get offended, but tell me what your personal top 10 is because I don't claim to be the Yoda of Hip Hop knowledge or anything.
Mtv's #10: LL Cool JHumanityCritic Commentary:
I particularly can't be mad at them putting James Todd Smith at number ten because that's where I put him. Even though I haven't purchased an LL album since maybe High School, but you can't deny his place in Hip Hop history. Plus, based on all the girls I failed to satisfy solely because I knew all the words to "I need love" back in the day, I feel I at least owe the brother a spot on my list.
Mtv's #9: EminemHumanityCritic Commentary:
I have to admit, for at least a few of his albums, I was Eminem's biggest supporter. When detractors came up with arguments on why Eminem was "wack", I became a Hip Hop Johnny Cochran and defended the caucasian MC, detailing his intricate flow and his lyrical wizardry, which usually followed me mushing the person I was talking to in the face because of their idiocy. But, like a skilled point guard who has the ability to go to the hole at will but settles for unadvised three point shots, Eminem has became a huge fucking disappointment. For one thing, he can't be on any top ten list because his albums are amazingly fucking sub-par. Also, the dude has a built-in audience where he could fart on a record and go platinum, so instead of using that and making a groundbreaking record he chooses to continuously cater to the TRL crowd. The guy is lyrically nasty, I'll give him that every day, but he doesn't belong in the top ten.
Mtv's #8: Ice CubeHumanityCritic Commentary:
Whenever I meet younger cats and hip them on Ice Cube's earlier work, I always give them the "

expiration date

" line when purchasing his material, saying "Be careful, the music goes bad after 1992". I know, it sounds bad, but it is my belief that Ice Cube went down faster than a lesbian Kamikaze after the "Death Certificate" album, or maybe it was his "Lethal Injection" release?? I forget, but despite me not particularly feeling his most recent solo work, or the proverbial wackness that was the "West Side Connection", the man does belong on this list because of a few factors.

1:

His point guard performance while he was in NWA, wring everyone's lyrics who weren't named MC Ren

2:

Amerikkka's Most wanted

3:

Death Certificate being one on the best Hip Hop recordings of all time. Obviously I'm not mad at Mtv for this choice, since I had him at number 9 on my list.
Mtv's #7: Big Daddy KaneHumanityCritic Commentary:
Even though he was number 3 on my list, his mere mention on any list of Mtv's makes me feel that they stopped having Kurt Loder's personal assistant do any more Hip Hop commentary. Yeah he should have been higher, based on his complex rhyme schemes, how many people site him as an influence, stage presence, and the mere fact that I'm jealous of him because I always wanted to have a "I once fucked Madonna" story in my repotoire.
Mtv's #6: KRS-ONEHumanityCritic Commentary:
Incredibly low in my opinion, but its good that Mtv.... Wait a minute, I shouldn't be grading on a curve based on Mtv's historic wackness when it comes to Hip Hop outside the television show "Yo Mtv Raps", let's check these incompetent fucks. On my list KRS is number two, based on his lyricism, breath control, legendary status, and because I have a perverse pleasure in seeing a deplorable rapper like Nelly get publicly castrated. Granted, it seems that KRS has been acting nuttier than squirrel turds as of late, but that doesn't take away from him being one of the baddest men with a microphone appartus, ever.
Mtv's #5: NasHumanityCritic Commentary:
Originally number 4 on my list, I have to tell you something about your boy Humanity F Critic. I'm a huge Nas fan, and consider him one of the top MC's ever, but I have to get a daily massage and practice Tai Chi just so I won't get mad that he made that fucking "Oochie Walli" song, or the fact that he did a goddamned song with Ginuine. Stress relievers aside, Nas gets my stamp of approval.
Mtv's #4: RakimHumanityCritic Commentary:
OK, this is pure blasphemy. No disrespect to the families of the two deceased gentlemen in front of him or Sean Carter himself, but those gentlemen, injected with the same stuff Barry Bonds shot up with, couldn't carry Rakim's lyrical jockstrap on their best day. This is pretty disgusting that they put him at Number 4, but then again you are hearing this from a guy who took four showers after I had a lap-dance from a stripper who didn't quite "smell quite right". But seriously, his legendary status, having one of the best Hip Hop voices out there, and being the most quoted rapper ever, I'm starting to believe Kurt Loder's personal assistant made the call on that one.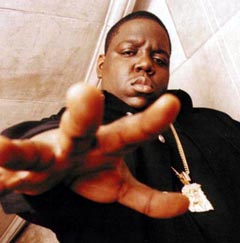 Mtv's #3: Notorious B.I.GHumanityCritic Commentary:
I love Biggie, "Ready to Die" is my shit and he dropped some fierce verses on the many mix-tapes that I purchased while he was alive. Also, as you can click on the link and see for yourself, I put him 7th on my personal list. That being said, I do think that Big has been propelled to a stratosphere that he is unworthy of based on his untimely passing. Not only that, when I go back and listen to "Life after Death", I realized that that was a sub-par album to say the least. A friend of mine said that she felt that if Big was still alive that he would be changing that game right now, which is a thought that was comforting to me. But when I said, "What if he lived and continued to wear those shiny ass suits with Mase, and then dropped unimpressive albums to the point that he signed with G-Unit?" By the look on her face it was obvious that my comment wasn't as comforting a thought as hers was.
Mtv's #2:TupacHumanityCritic Commentary:
If there is one thing I have learned as a blogger it's this, if you talk bad about Tupac expect to get some viscous ass hate mail. I mean, shit that I wrote a year and some change still inspires brilliant personal emails to yours truly stating something like this, and I quote, "YOU DON'T KNOW SHYT!! YOU DON'T FEAL PAC, PAC WAS DA TROOF PATNA!! FUCK YO SHITTY BLOG!!"(I believe the children are the future) That being said I respect Pac, and his fans, I just don't think he belongs in a top ten list based on my personal feelings. He was a great artist who poured his heart out of record, and that is commendable, but when I think about the people he surpassed to get on this list my head feels like it's going to explode. The untimely passing of Pac was unfortunate, and it was a huge loss for Hip Hop, but I refuse to give a brother unnecessary praise based on the grim reaper visiting him before me.
Mtv's #1: Jay-ZHumanityCritic Commentary:
As a person who has came around on Jay-Z as of late, I'm not mad that he is on this list, or the list of anyone who is currently reading my horseshit blog. I mean, he wasn't on my list at all, but I have come to respect Sean Carter for the good MC that he is. But, number 1??? That shit is ridiculous, I'll give him a pass on the biggie "

references

" he uses, but the mere fact that he openly admitted that he dumbed down his lyrics for album sales leaves a bad taste in my mouth like seeing Mary J Blige without her makeup on. I know it's not all about me, but I feel that the people at Mtv put Jay-Z at the number one spot just to fuck with a chubby dread-locked blogger living in Virginia Beach. What do yall think exactly??
Glaring omission from Mtv's "

list

"
?
Kool G Rap