Even though I still find it hard to say words like "sorry" or "I was wrong", as I get older I find it easier to admit things more freely. One area where I feel free to express myself openly and honestly is when it comers to music. If someone writes something that I feel is a true literary accomplishment I won't be jealous, I will praise it and outright wish that I had written it. Here are a few examples of songs that I really wish that I had written.
Artist
: Prince
Song:
Darling Nikki
Even though when I first heard this song as a kid I didn't comprehend everything going on in the song, I knew at a early age that whatever he was talking about was some freaky shit. The opening just says it all:
"I knew a girl named Nikki I guess you could say she was a sex friend/ I met her in a hotel lobby masturbating with a magazine"
That just set the tone, letting you know that this was going to be a tale about dirty sex with a girl named Nikki. I know this song isn't the most well written song that I could have picked, but the song is so upfront that you can visualize the events on the song in your head. Darling Nikki, to me, symbolizes every piece of questionable sex that you probably shouldn't have had. Not to mention, this is the main song that I loved to "bump uglies" to as a teenager. Who am I bullshitting, I still love to play it while having sex with somebody's daughter.
Artist:
O.C
Song:
Times Up
I love this song with a absolute passion, besides this guy is truly one of the most underrated MC's ever. This song criticizes the phony "gangsta" image, and I'd be damn if this song isn't relevant today. When he opens up with the first line with "
You lack the minerals and vitamins, irons and the niacins
", you know that he is on some next level shit. Even though the entire song is a scathing attack on those who try to play the role of "fake gangsta" the two lines at the end of this song pretty much sums it up: "
Non-conceptual, non-exceptional/ Everybody's either crime-related or sexual
" Fucking classic man..
Artist:
Stevie Wonder
Song:
As
This song, as beautifully as it is written, gives me some hope that true love really exists. "As" is a song where Stevie expresses how deep his love for someone is, even though I think that this song could be used for getting "new" sex as well. The opening line of the song goes like this, "
As around the sun the earth knows she's revolving/And the rosebuds know to bloom in early May/Just as hate knows love's the cure/You can rest your mind assure/That I'll be loving you always.
" Now tell me some woman's drawers aren't coming off after that? Stevie doesn't stop there, later he says that he will love you "
Until the rainbow burns the stars out in the sky
", he will love you "
Until the ocean covers every mountain high
". Stevie would have been an excellent pimp, just making women just do whatever he wanted. But the seasoning, ladies and gentlemen, is when Stevie said that he would love you "
Until the day that 8x8x8 is 4
"! When a brother has you fucking up simple arithmetic, he has surely put something on you.
Artist:
Commodores
Song:
Brickhouse
Being that my best friend is a right-wing republican, who couldn't tell you a rap song if you held a oozy to his head, suffice it to say that I have been in many questionable bars that he has suggested. Regardless of the bar, whether it be a biker bar or some "Toby Keith, shit kicking achey breaky heart" style drinking establishment, there is one song that brings the races together. That song is "Brickhouse". I have actually seen a bar where the white people were disgusted at the Hip Hop that was being played, and some black people who were disgusted at the country music that was being played, but as soon as "Brickhouse" came on everyone gathered on the dance-floor like Martin Luther King was the DJ. I don't claim to be a big fan of the writing of this song, but the powers it possesses is something that I envy. I have also used this song to say wildly inappropriate things to random females that I don't know. This one girl had a skirt that was way too tight, and some of her butt cheeks were sticking out, so I said"
Owww-she's a Brick-House/ She's mighty mighty, just lettin' it all hang out
." For some reason she didn't find that amusing.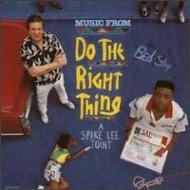 Artist:
Public Enemy
Song:
Fight the Power
This by far isn't my favorite Public Enemy song, but it is the one that evoked the most emotion from me. I remember sitting in the theater watching Spike Lee's "Do the Right Thing", and how excited I felt when you heard Chuck D belt out "
Mother fuck him and John Wayne
." Chuck was hip hop's true rock star, willing to give a huge middle finger to the establishment or anyone that had a problem with his band. At that time, for a 15 year old kid that was just coming into his own, this song definitely is a special one for me. But let me put the previous song lyric that I quoted in context. Elvis, famous for taking blues songs written by black blues artists and using them to become a popular recording artist, once said that black people were "
only good for cleaning his house
." So when Chuck D said, "
Elvis was a hero to mostBut he never meant shit to me you see/Straight up racist that sucker was Simple and plain/Mother fuck him and John Wayne
" it was definitely a memorable moment in Hip Hop.
Artist:
Culture Club
Song:
Time
A commentor by the name of "Maya's Brother" quoted lyrics of this song in yesterday's comment section, and it just reminded me how much I liked this song and what it meant to me.(
Thanks man
) I was in a relationship for more than 5 years, and every time we would consider breaking up we decided against it because of the time that both of us had put into our "union". Looking back, we made a big mistake, because at the end we were totally different people who were making each other absolutely miserable. That is what makes Boy George's lyrics so poignant, when he says, "
Because time won't give me time/And time makes lovers feel/Like they've got something real
" Preach, my androgynous British bother!!
Artist:
Prince
Song:
Sign O' the Times
Yeah I know, another Prince song, what can I say I'm a fan. This is one of Prince's more political songs as he tackles subjects like Aids when he says, "
In France a skinny manDied of a big disease with a little name/By chance his girlfriend came across a needle And soon she did the same
". Prince always had the writing ability to say so much with so little words. For a guy like myself who can be as long winded as Ruben Studdard passing gas, this is a gift that I hopefully will one day embrace. In this song he covers social ills that plague our society, and simply says "
Some say a man ain't happy, truly/Until a man truly dies
" That's deep Prince, where is the part where the girl is "masturbating to a magazine"? Wrong song? My bad.. But my favorite part of the song is when Prince sings the following, "
Sister killed her baby cuz she could afford 2 feed it/And we're sending people 2 the moon/In September my cousin tried reefer 4 the very first time/Now he's doing horse, it's June
" You gotta love that.