The old saying that God looks after fools and babies is true in my case. You would think, for a guy that has escaped death as much as I have in life, that I would live my life more conservatively. One would think that I would spend a considerable amount of time watching my every step, savoring every breath of air that enters my lungs like it is the last. But the funny thing is the opposite effect happened. It actually made me more liberated to do and say things that I probably wouldn't have said in years past. Here are a few examples when I gave the grim reaper the finger.(
If you have any examples, feel free to share them.
)
Stairway To Hell
: As the story was told to me by both of my parents, when we lived in Philadelphia I fell down a cemented flight of stairs. Apparently we had a basement that my mother made sure to always keep the door locked, and erect a baby gate in front of it to keep me from busting my ass. I guess either my mother had forgotten to lock the door, or someone else had and took down the gate, because I opened the door and went tumbling down 20 cement steps. My parents didn't agree on much as I remember, but the one thing that they did agree with was that my mother was going bat-shit when this happened. My father had to take control of the situation and took me to the hospital immediately. When the doctor examined me, he didn't believe that I had just fallen down 20 cement steps because I was barely bleeding, and I was giggling the whole time. My father wasn't a religious man, but after I had a clean bill of health he went to a local church, prayed, and thanked god for what he called a "
miracle
." To this day my mother attributes my "craziness" to the fact that "
my black ass fell down those stairs, knocking some screws loose."
Shit, she's probably right.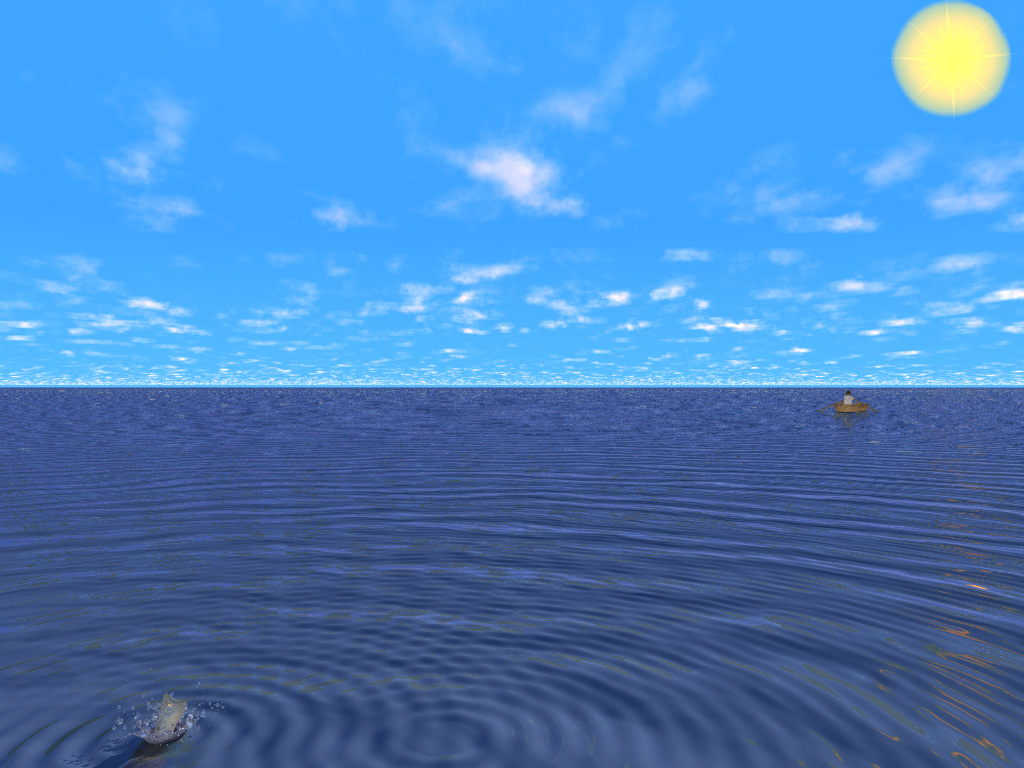 Lost at Sea
: Looking back, my parents were kind of strict. Not strict like, "
Your ass isn't leaving the house period
", but in a "I
don't know their parents, you aren't staying the night over there
" kind of way. My friend named Tyrone invited me to go fishing with his father and about 4 of our mutual friends on a boat that Tyrone's father owned. I immediately asked my father if I could go and I remember hearing a resounding "No" sound come out of his mouth. His reasons were because he didn't trust Tyrone's father, I wasn't a strong enough swimmer, and because "
He said so
!" I sat in my room while my friends were having the time of their lives, silently cursing my father and wishing bad things on him. A day later I had found out that a couple of the boys had drowned because they had fallen off the back of the boat when Tyrone's father was trying to show off. When the remaining boys had alerted Tyrone's father, they were already like 200 yards away. They saved one of the boys, but the other drowned and wasn't found until 3 days later when his body washed up on shore. I have to give my father props though, he never said "See!" or flaunted his parental skills, he just gave me a hug as I cried over my dead friend.
No Backseat Love:
I had a friend in High School named Carla who was a closeted lesbian. She knew that her parents would be against her lifestyle choice so she made it look like I was her boyfriend to ease any doubts that they might of had. I played along, even coming by occasionally to see her when I was in the area. The truth was, Carla had a girlfriend that she was deeply in love with named Julie, who posed as my sister whenever they would hang out.(
In hindsight, I just don't see why they couldn't have acted like they were platonic girlfriends?.
.) Anyway, Carla and Julie wanted me to go to Bush Gardens with them because Carla's parents had found some "questionable" material in her room and they needed me for damage control, playing the boyfriend again. I don't know what I had planned that day, probably nothing important, but I declined their offer and told them to "
have fun."
They were pissed at me, begging me to go with them, even bribing me with money in order for me to go. I was persistent, I gave them a resounding "no" each time they asked. After uttering a vicious "
Fuck you
", they hung up the phone. A few days later I heard that on their way to Bush Gardens they had gotten into a bad accident, where their car had flipped over 3 or four times on the interstate. Luckily they survived, but their entire backseat area, where I most likely would have been sitting, was completely caved in. I can't say that I absolutely avoided death in that instance, but it makes you wonder though.
Guns ablazin':
I have to admit, I've always been a asshole, but college was when I started to actually find my stride asshole-wise. I was dating this girl named Shelly, who had just gotten out of a relationship with her "
crazed, drug dealing ex boyfriend.
" I had no idea if he was crazed, or even a drug dealer, but Shelly kept telling me that like it was some important information. Shit, i didn't care if her ex-boyfriend was John Gotti, as long as I was currently seeing her naked, that's all I cared about. She kept telling me that her ex was "
looking for me
" and that I should watch my back.(
Watch out, some girls will get you killed. If he is your ex, who is crazy, why tell the dude my name or anything about me?? Exactly.)
I finally met the ex in question when I was walking Shelly home and he tried get in my face.. He had a gun so I knew that I had to act fast, so stealing him in the face was my only option. While he was on the ground I grabbed his gun and threw it in the gutter, then the police came because Shelly had called them. The following days I had learned that the ex actually had killed people, and that my days were pretty much numbered. I should have been scared, I considered getting a gun myself, but I wasn't and I didn't. Her ex had found out that every Monday I went to a certain drinking spot like clockwork. For some reason I didn't go that night, but her ex went there looking for me, with about 5 other mean looking dudes ready to end my life. Apparently they meant business, as people to this day who were there always say, "
You are one lucky son of a bitch!."
A few days after the club incident my problem ended when a guy who Shelly's ex owed money to filled him up with more lead than a number 2 pencil.
Stray Bullet:
This was definitely the craziest shit ever, and this situation wasn't caused by me or me being an asshole!(
Go figure
) I was visiting some friends in Atlanta when we decided to go to a club one Saturday night. The night was innocent enough, I met a few girls, got drunk off my ass, BUT I didn't have any confrontations with anybody. A couple of my friends were still in the club, another friend of mine is talking to a girl somewhere in the parking lot, and I am leaning against my homeboys car just drunkenly free-styling to myself. I see an argument break out between the bouncers and a gentlemen that they were throwing out of the club. I'm oblivious to it, and I just keep on enjoying my drunken haze. Then, I guess because I was bored, I started doing Karate moves, in a totally drunken fashion. Apparently at this time the man who had gotten thrown out went back to his car, pulled out a gun, and started shooting at the bouncers in front of the club. This was how drunk I was, I didn't hear the actual gunshots but I heard something whiz by me, and what seemed to be a sound like someone was punching the car I was standing by. Again I was oblivious, and my friends rushed over to me minutes later to see if i was OK. I looked and there seemed to be bullet holes on both sides of where I was actually standing. When I realized this, my buzz had vanished, and like a bitch my knees went weak and I collapsed. To this day, because I was mocking kung-fu moves while being shot at, they call me "Neo" because they claim I can dodge bullets. I still want to wet myself when I think about that incident.