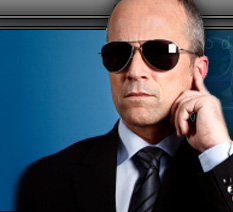 You know, I have never been important enough for it to fucking matter, but my train of thought when it comes to having a bodyguard fell along the lines of that classic "
Gangstarr
" song. You know the one where Guru says "
Fake MC's, they always act hard/ But won't walk the street without their bodyguard!!"
, my sentiments exactly. I mean, if I was the type of rapper that I think that I would be I wouldn't have any reason to worry about repercussions concerning my lyrics, except for maybe Mary J Blige fans and black republicans. Shit, even if I did spit lyrics rife with gun play, murder, decapitation, hand to hand street deals, and the occasional ode to my mother, I think the best way to show my lemming-like fans that I was a bona fide bad-ass would be me showing up at shows by my god damn self.(
Possibly accompanied with a bullet proof vest, twin sidearms like I'm in the wild west, and snipers on the roof.
)
But I realize that regardless what you talk about on records, poverty or punany, pistols or peace, there is a great chance that your popularity will be so great that you will be forced to put away the Gangstarr records and get you some fucking security. Now what I don't understand are these rappers who get an over-sized childhood friend, or some "
big guy they know from their hood
" to act as their personal protection. Listen, maybe I'm just too stupid to be scared or possibly I have fought enough big guys in my day to know better, but hiring some big scary looking dude just isn't enough. I couldn't tell you how many times I have seen some "
Just add water thug
" type of rapper at some show I was coerced to go to, looked at their security and thought to myself "
I bet I could get like 20 punches in before his incompetent security guards know whats going on.
"
So, because there are individuals out there like myself that are officially nuttier than squirrel turds, I would have a totally different take on who I would hire to protect me. For one thing, fuck hiring "
Big Ray
" from up the street, I don't know about you but I wouldn't feel safe if I felt that I could beat the guy guarding me. So I would hire a "
Jack Bauer
" type of dude, a dude who not only used to be part of his hometown SWAT team, possibly an ex Navy Seal, possibly an ex member of the U.S Army's elite Delta Force, lets just say that he would be highly qualfied to protect your loveable chubby pre-ejaculator. I don't want being "
fat", "Tall", "ugly"
, and "h
as the ability to eat a dozen hot dogs in one sitting
" to be the criteria for my security guy. I'd want my security guy to not only be knowledgeable in 10 fight disciplines, be able to defuse a car bomb, kill a man with a loose-leaf binder, throw a knife accurately over 50 yards, but he'd also be able to take apart a gun with one hand like he was Jet Li in "
Lethal Weapon 4
" and shit. Forget about having some garden variety big guy who just becomes a 400 pound target if they are unskilled, my guy woiuld map out alternate escape routes when ducking the paparazzi, decoy cars, and his ninja training would serve him well as he secretly sneaks morally loose women into my hotel room each night.
Yes, he'd be overqualified based on the fact that he would probably find himself just shoving people out of the way because my fanbase would consist of like 20 people, but you can never be too safe I say. I can actually see that being my daily mantra, as my fans give me menacing looks as they are getting the full cavity search just to get a chance meeting with me, I'm sure I'd throw up my hands, smirk and say
"Hey, You can never be too safe!!
"