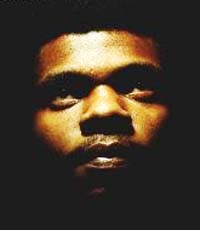 By simply hearing certain songs, or certain artists in general, you can be transported to a place or time as if you had taken the most famous 85' Delorean on a joyride. Whenever I hear the song "
Scenario
" by A Tribe called quest, I am immediately transported to my car 5 minutes after I witnessed my father die as I clutched his hand. Sobbing uncontrollably for the first time in a decade, I mouthed the words to this famous posse cut as I fought back a waterfall of tears, a bad rain storm, and that "
after a full day of visitors, why did his ass wait for me to get there to die!!
" feeling. Whenever I hear the Sade song "
Your Love Is King
" I am placed back in the bedroom of Joanne Carter, about to lose my virginity, possibly not making it past the first verse before premature ejaculating all over her New Edition bedsheets.(m
aybe this is too much information, but before "releasing" on her bedspread with "Ronny, bobby, Ricky, mike , and Ralph" on it, I screamed out, "Can YOU stand the rain fellas??!!"
) Music, my lifelong friend, has the ability to make past memories become much clearer instantaneously.
I brought all of this up because the man that died yesterday, Billy Preston, by the hundreds of times the story was told to me brought my mother back to a very important memory for her. My maternal grandfather, a man who was by all accounts a great man, I never knew because he died right before my mother was pregnant with me. So you could guess that the loss of such a great man to my mother, who is the oldest of four children, would be one of the most devastating things that she has ever had to deal with. My mother, a very emotionally strong woman who keeps her innermost feelings close to her chest like the most untrusting poker player, stares off into space when talking about a Billy Preston concert she had attended around the time she had buried her father. The way she explains the master musician he was, the vocal range that the man possessed, and the electricity he brought to the stage, I understood when she told me that his brilliant performance was the only thing that could momentarily keep her mind off losing the greatest man she would ever know.
Billy Preston, born September 9, 1946 in Houston, Texas, started his legendary musical journey by learning to play the piano on his mother's lap as a kid. Reading online most people claim that he will best be known for his work with "
The Beatles
" which is fine and all, but I heard so many Billy Preston records as a kid on Saturday Mornings, I think millions of his fans would point to his own signature material to stand on it's on. He was the first musical guest on Saturday Night Live, Miles Davis titled one of his albums after him, and by his work with the aforementioned gentlemen from Liverpool, he is one of the only musicians given the title as the "
Fifth Beatle
". Preston worked with artists including The Beatles, Sam Cooke, Red Hot Chili Peppers, Eric Clapton, Sammy Davis Jr., Sly Stone, Aretha Franklin, George Harrison, The Jackson 5, Quincy Jones, Bob Dylan, and The Rolling Stones. Preston, who subsequently died of kidney failure yesterday and had battling kidney problems for the longest time, still contributed to the Red Hot Chili Peppers song "
Warlocks
" on their recent "
Stadium Arcadium
" release. Even though he was ill and bed ridden, after hearing the tape that the band gave them he jumped up, recorded his clavinet part, then went back to bed.
Billy Preston, dead at 59.
"
My Sweet Lord
"