Listen, I know that my viewpoint when it comes to current day Hip Hop makes me seem like someones parent that can't let go of the "
old days
". Yes, I think that 90% of the people who consider themselves musical wordsmiths are nothing but modern day coons, flashing their watermelon grins to an accepting audience that is as clueless as Forrest Gump on Crystal Meth. Yes, I feel that most of the rappers who characterize themselves as "
conscious
" are just a few notches above being functioning illiterates, who couldn't speak articulately about a news item if you held a USA Today newspaper and a loaded 45 to their collective heads. And Yes, I distrust Hip Hop publications and most journalists, because like a house negro, they talk a good game but at the end of the day you can find their tongue up massa's ass literally and figuratively. But maybe I'm too harsh on Hip Hop, maybe I should adopt that horseshit "
changing times
" notion that every sub-par scribe this side of the equator tries to bombard us with? Maybe some of the artists that I give shit to like a colostomy bag, the artists that people I respect tend to like and I despise, maybe I'm just hating on that artist.. So over the past week or so I have given multiple listens throughout the catalogs of some artists that I think suck, but some of my peers feel are the "
cats pajama's
" so to speak. I gave it the old college try, tried to be objective as humanly possible and came to the conclusion that there artists still blow something fierce, like that superhero "
Storm
" at a fellatio contest. I just don't get why people would like these artists..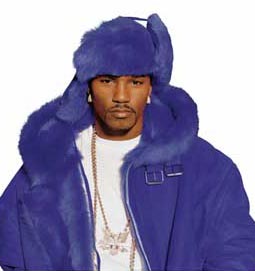 Cam'ron:
When Cam'ron first came out with that "
Horse and Carriage
" shit I thought he was alright, but since then his music has been irritating like that pimple on your ass that you keep getting reminded of whenever you sit down. From the over-produced monstrosity of a track that he rhymes over, the elementary rhyme style that takes me back to Mrs. Wilson's 3rd grade class, not to mention a feeling of losing I.Q points whenever you see this cum-stain in an interview. Besides his lackluster rhymes and him being a Hip Hop abomination, what's up with dude's crew? Jewells Santana is one torrential downpour of wackness, and Jim Jones looks like some homeless guy that Cam'ron decided to give a contract to. Some people that I respect like these cats and for the life of me I don't know why, I don't know whether to end my friendships with these people or beat them upside the head with a copy of "
Paid in Full
" so they can regain some of their god given common sense.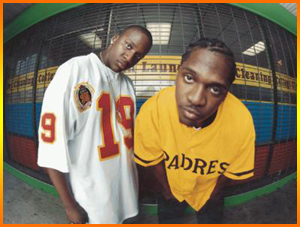 Clipse:
On one hand I have to give these guys love because they come from my area, and anytime someone can escape the Hampton Roads area to make a name for themselves I have to give them the proper respect. But on the other hands to call them average MC's seems like a compliment, their uber corny to me, and the image that they try to push upon their listeners that they are "
drug dealers
" just inspires giggles from your resident Throat-chopper.(
yes, "other hands", I'm an Octopus motherfucker!!!!
) I really don't think that these guys are the worst people to ever be behind a microphone, but some people online act like these motherfuckers are "
A Tribe Called Quest
" or some shit, slow down sugar-tits. I don't know these dudes personally but when I heard them say "
I'm from Virginia, where ain't shit to do but cook
" I just knew they were talking about their interest in the culinary arts and not cooking cocaine. Besides their drug history being as fake as silicone titties or my interest to cuddle post coitus, how long will the "
we are drug dealers
" charade go on??
Lil Wayne:
No bullshit, I feel that Lil Wayne is this era's version of Robert Johnson, a dude who sold his soul to the devil where everyone thinks that this guys is good except for me. I'll give him credit, he seems very passionate about what he does, but then again I'm very passionate about shits that I take and I doubt anyone will buy a CD of that any time soon. I guess people aren't sticklers for lyrics the way that I am, but when I've analyzed the words that come out of Lil Wayne's mouth during one of his songs I always felt that Charlie Browns teacher had more to say. Like The Clipse, people that I respect like this Gremlin with a microphone and I just don't get. People please, enlighten me.